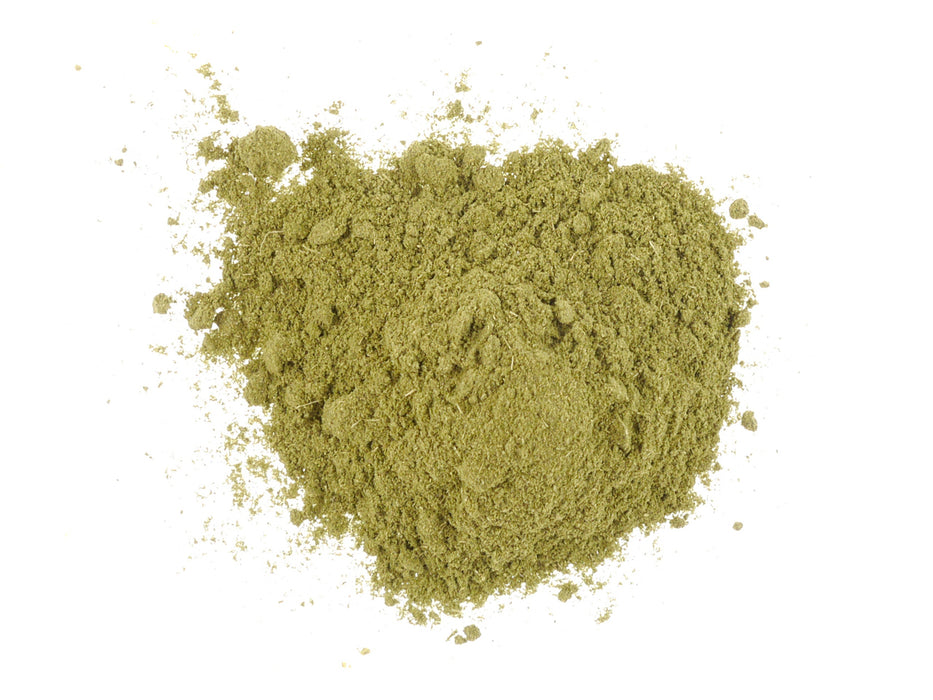 WHY IT'S GREAT QUALITY
Often called 'Nature's Multivitamin', the highly nutritious leaves of the Moringa tree are harvested, dried at low temperatures and milled into a fine powder to create our organic Moringa powder. This ensures no nutrients are lost and makes it suitable for raw diets.
Nothing added, nothing taken away. No additives or preservatives. No nasties. 
Packed full of antioxidants, the leaf and root have been used in natural remedies for centuries. Considered one of the most potent 'superfoods', Moringa is a good source of immune boosting vitamins, minerals, iron and calcium, as well as containing a wide range of amino acids and magnesium. High in fibre, Moringa could help you to feel fuller for longer. 
WHAT IT'S FOR 
With a slightly herby taste, Moringa powder is best with savoury foods. Add it to your vegetable stocks and soups, or sprinkle over your greens for a nutritious seasoning. Thought to reduce tiredness and fatigue, give your morning a quick pick-me-up with 1 or 2 teaspoons in a smoothie, juice or shake. 
Contraindications: None.
Suitable for vegetarians and vegans, raw diets and those on gluten and yeast free diets. 
WHERE IT'S FROM 
Moringa is particularly susceptible to failing pesticide tests required for organic certification so we work with several suppliers who source it from various countries to ensure we can provide you with the best quality Moringa and keep you in constant supply. We've had Moringa from India, Egypt and Nigeria, and although there are slight colour and consistency variations between batches, the nutritional profile remains constant.
Environmental impact
With nutrient dense leaves, the Moringa tree is known as 'The Miracle Tree' because of its social, environmental and economic impact. The seeds of the tree bear oil and can be used to purify water, and because it is drought resistant, it provides farmers and small producers a year-round source of income. The planting of Moringa trees is helping fight malnutrition and improving the environment in rural communities. 
Nutritional Information 
Nutritional Information (per 100g)
PACKAGING AND SIZES
We use resealable packaging to make sure our products are fresh and tamper proof. The pouches stand up on your shelf, nice and proud.
Packs range from 25g to 25kg. The 15kg, 20kg and 25kg options are wholesale options and don't come as individual 1kg packs.
Want more than the largest amount listed? No problem! Contact us for wholesale options. 
SHIPPING
We ship to all EU countries. For more information on shipping to non UK addresses please refer to our Shipping page.
DISCLAIMER
As with all food and supplements, it is essential that you do your own research to decide if this product is right for you. It should be used as part of a healthy, balanced diet and should not be a substitute for regular exercise. While we believe that these products can be beneficial in many ways, they should not be taken instead of conventional medicine. Consult your doctor first if you suffer from any health problems or are pregnant or breastfeeding.