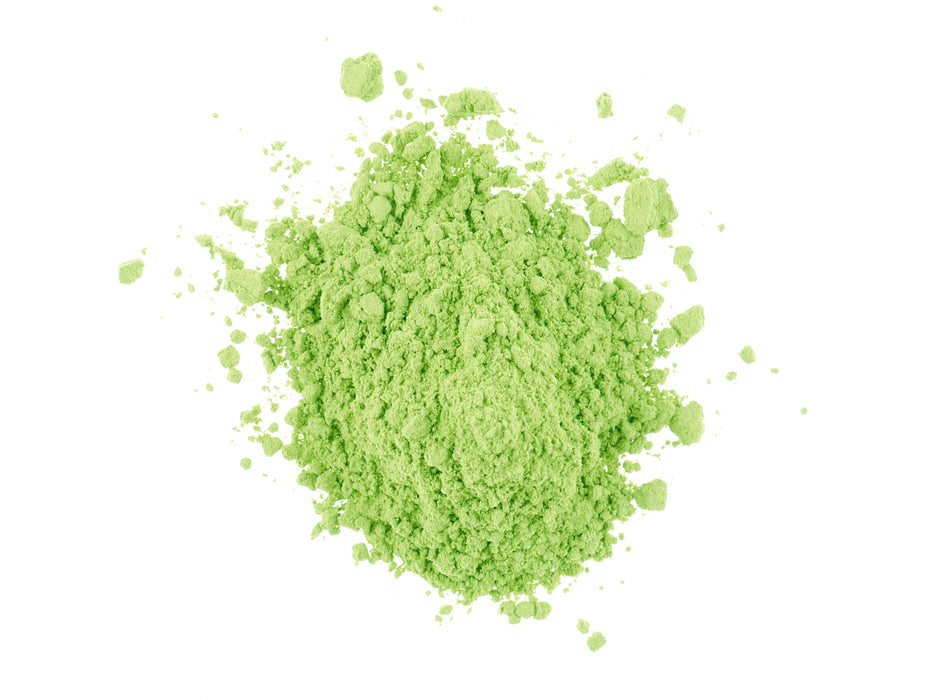 Organic Matcha Green Tea (800 Mesh)
Why it's great quality
Brimming with antioxidants, our organic matcha green tea powder is full of flavour and natural goodness. The green tea leaves are grown in the shade with great care over a long period of time to boost the chlorophyll content, giving the leaves maximum sweetness and minimum bitterness. 
The leaves are handpicked and gently dried out. Then they're milled into the finest powder; our matcha is rated 800 mesh which means it's super-fine. It dissolves like a dream in the liquid – no big lumps in the bottom of your glass.

Since the entire leaf is used in matcha, it is more concentrated in caffeine and antioxidants than your regular green tea. The gentle and refined process of creating organic matcha may take time but it's worth it for the perfect taste.
WHAT IT'S FOR
Predominantly used to make tea, matcha has been a favourite in the Far East for nearly a thousand years. The matcha revolution has taken over Western coffee shops in recent years, inspiring many a matcha latte.
We love a teaspoon or two of our matcha powder whisked into hot milk for a creamier taste, or with a twist of citrus for a refreshing tang on a hot summer's day. And we don't just drink it; our matcha white chocolate mousse is to die for and we also love it in home-made ice cream and chocolate.

Contraindications: None.
Suitable for vegetarian and vegans, and for gluten and yeast-free diets.
WHERE IT'S FROM
With its instantly recognisable bright green colour, our organic matcha green tea powder is grown, picked, milled and ground in China. We work with farmers and suppliers who use the traditional methods to dry the matcha leaves indoors, so unlike a lot of matcha grown in China, ours retains the beautiful bright colour and smooth texture.
Environmental impact
The explosion of matcha on the Western wellness scene has benefited many small collectors and local producers.
We only work with suppliers who pay their farmers fair prices and have good working conditions.
Nutritional Information 
Caffeine content: 1.2% (12mg per gram)
Nutritional Information (per 100g)
PACKAGING AND SIZES
We use resealable packaging to make sure our products are fresh and tamper proof. The pouches stand up on your shelf, nice and proud.
Packs range from 25g to 5kg.
Want more than the largest amount listed? No problem! Contact us for wholesale options.
SHIPPING
We ship to all EU countries. For more information on shipping to non UK addresses please refer to our shipping page.
DISCLAIMER
As with all food and supplements, it is essential that you do your own research to decide if this product is right for you. It should be used as part of a healthy, balanced diet and should not be a substitute for regular exercise. While we believe that these products can be beneficial in many ways, they should not be taken instead of conventional medicine. Consult your doctor first if you suffer from any health problems or are pregnant or breastfeeding.