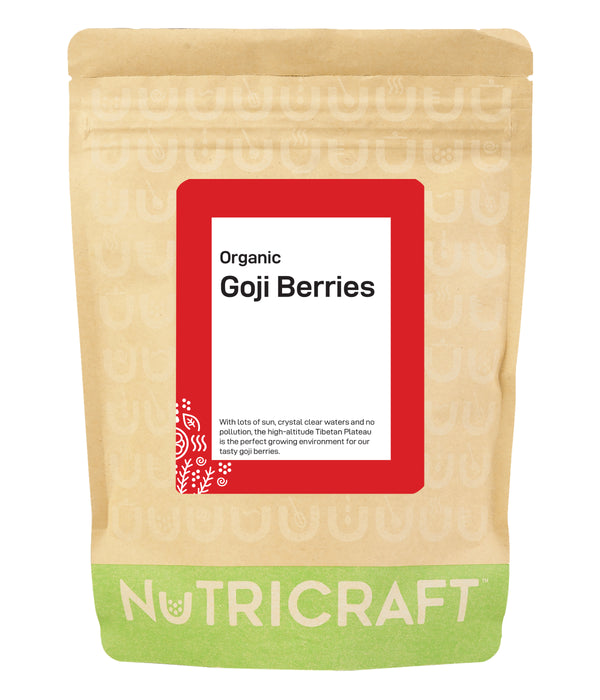 Why it's great quality
An absolute powerhouse of vitamins, antioxidants, amino acids and fatty acids, our organic goji berries are much bigger and juicier than you'll get on the high street. Dried naturally at low temperatures to preserve the nutrient content, our goji berries are grown in Tibet where the locals call it 'the berry of eternal youth'. 
100% raw goji berries. Nothing added, nothing taken away. No additives or preservatives. No nasties. 
Containing more protein than any other fruit, goji berries have a high level of vitamin C, making them worthy of their superfruit status. 
WHAT IT'S FOR 
Crafted into health bars or sprinkled over your breakfast, goji berries are delicious and chewy. Their mild tang and sweet aftertaste makes them a popular ingredient in smoothies and juices. We suggest you soak them in water before blending for a smooth texture. 
The taste of these small but mighty berries also goes well with chocolate and nuts, so add them to a home-made trail mix or to your next chocolate masterpiece for a flavour sensation. 
Contraindications: None.
Suitable for vegetarians and vegans, raw and kosher diets and those on gluten and yeast free diets. 
WHERE IT'S FROM 
With lots of sun, crystal clear waters and no pollution, the high-altitude Tibetan Plateau is the perfect growing environment for our organic goji berries. These conditions create the highest quality berries, hopefully enabling them to live up to their local reputation as the 'fruit of wellbeing and a long life'.
Environmental impact 
Our organic goji berries are grown in a completely chemical free environment. As the berry has grown more popular around the world, cultivation has expanded to create more jobs for the Tibetan farmers. 
As with all of our products, we only work with suppliers who pay their farmers fair prices and have good working conditions.
Nutritional Information 
Nutritional Information (per 100g)
PACKAGING AND SIZES
We use resealable packaging to make sure our products are fresh and tamper proof. The pouches stand up on your shelf, nice and proud.
Packs range from 250g to 5kg.
The 5kg option comes as a single non-branded pack of goji berries. It does not come in individual 1kg packets.
Want more than the largest amount listed? No problem! Contact us for wholesale options. 
SHIPPING
We ship to all EU countries. For more information on shipping to non UK addresses please refer to our Shipping page.
DISCLAIMER 
As with all food and supplements, it is essential that you do your own research to decide if this product is right for you. It should be used as part of a healthy, balanced diet and should not be a substitute for regular exercise. While we believe that these products can be beneficial in many ways, they should not be taken instead of conventional medicine. Consult your doctor first if you suffer from any health problems or are pregnant or breastfeeding.