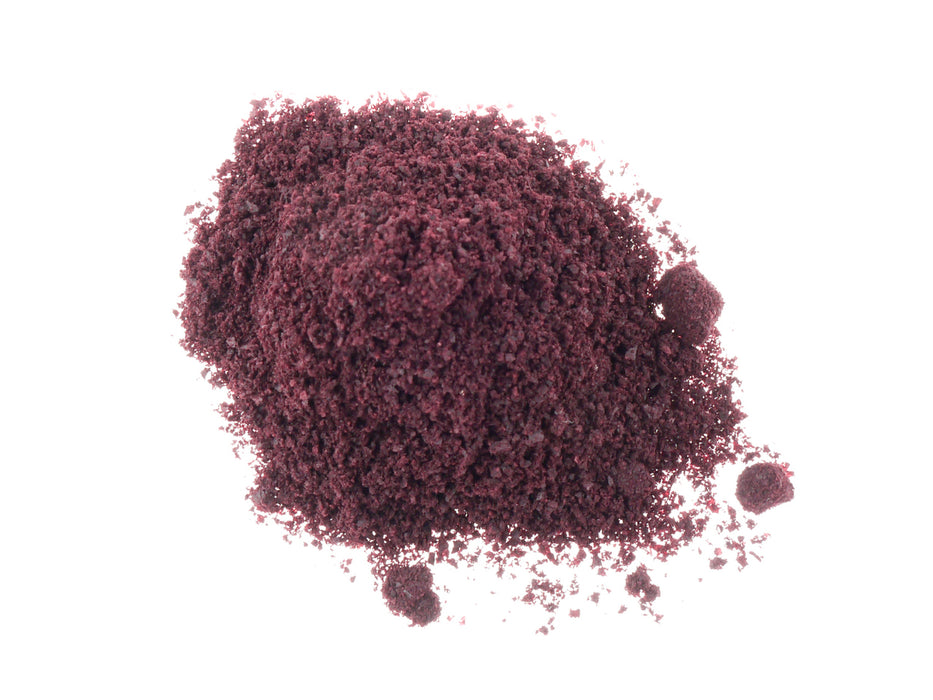 Organic Acai Berry Powder
WHY IT'S GREAT QUALITY
Beware of cheap alternatives - acai has to be processed immediately, otherwise it rapidly ferments and spoils. Our organic acai berries are carefully hand harvested by farmers in the Brazilian rainforest, and then almost immediately turned into a pulp and freeze dried to ensure the freshest taste, and to preserve their nutritional value (vitamins A and E, iron, fibre, and essential fatty acids). 
The result is a deep purple coloured powder that will give your recipes a beautiful jewel colour, a world apart from the bland brown of inferior acai powder.


WHAT IT'S FOR
In north Brazil, acai berries are eaten daily, not only for dessert, but as a main dish. Further south, consuming acai pulp in smoothies and juices, and mixed with other fruits and cereals, is another popular way of soaking up the berries' goodness.
Loaded with antioxidants, the health benefits of acai have taken the world by storm. So, whether you run an indie juice bar, use the powder for muscle-building smoothies, or you got hooked on acai bowls on your last trip to Bali, you'll want to load up on the best quality, most nutritious berries you can lay your hands on.
Contraindications: None.
WHERE IT'S FROM
Acai (pronounced a-sigh-ee) is an exceptionally nutritious berry that grows naturally in Brazil and the Amazon region. Our acai berries are harvested in the depths of the Brazilian rainforest using traditional techniques.
Our suppliers work closely with the farmers to ensure good working conditions and fair pay for the farmers at every stage of production.
Environmental impact
The explosion of acai on the Western wellness scene has created a booming business for small collectors and local producers. Acai is a non-timber sustainable rainforest product, with tough judge Greenpeace saying, "the rapid regeneration of the [acai] plant make it a far preferable and sustainable alternative to large-scale logging". Sustainable and healthy, this superfood is aptly named.
Nutritional Information 
Nutritional Information (per 100g)
PACKAGING AND SIZES
We use resealable packaging to make sure our products are fresh and tamper proof. The pouches stand up on your shelf, nice and proud.
Packs range from 25g to 5kg. The wholesale vacuum packs come as one big pack of acai, not individual 1kg packs.
Want more than the largest amount listed? No problem! Contact us for wholesale options.
SHIPPING
We ship to all EU countries. For more information on shipping to non UK addresses please refer to our Shipping page.
DISCLAIMER
As with all food and supplements, it is essential that you do your own research to decide if this product is right for you. It should be used as part of a healthy, balanced diet and should not be a substitute for regular exercise. While we believe that these products can be beneficial in many ways, they should not be taken instead of conventional medicine. Consult your doctor first if you suffer from any health problems or are pregnant or breastfeeding.