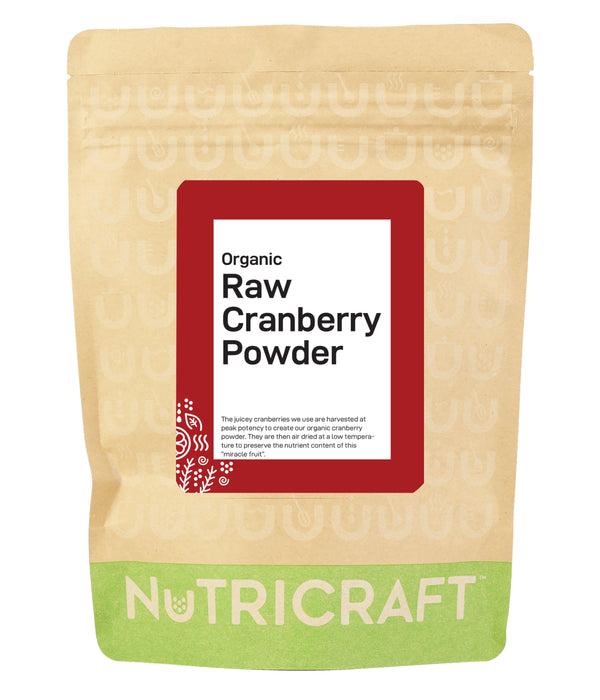 Organic Raw Cranberry Powder
Why it's great quality
The succulent cranberries we use are harvested at peak potency to create our organic cranberry powder. Suitable for those on raw diets, they are air dried at a low temperature to preserve the nutrient content of this "miracle fruit". What's more, we make sure the whole of the berry - the skin, flesh, seeds and juice - is used so you, and your customers, get every last squeeze of goodness. 
100% pure cranberry powder. Nothing added, nothing taken away. No additives or preservatives. No nasties. 
Packed full of phytochemicals, particularly polyphenols, micronutrients and vitamins C, E and K, some studies show raw cranberry products can help prevent kidney problems, boost the immune system and provide a source of fibre. 
Please note that this is not the expensive freeze-dried version, so it doesn't have the same intense flavour and it has a different consistency, which means it doesn't dissolve in water as well. 
What it's for 
A great way to bring foods to life, cranberry powder adds natural flavour and colour to oatmeal and granola, salad dressings, flapjacks and more. It is the ideal consistency for dusting on puddings or dissolving in juices, shakes and smoothies, making dishes and drinks look more appealing to your health-savvy customers. In a rush? Just add a teaspoon to water or coconut water and enjoy the fruity, tangy flavour. 
Contraindications: If you are prescribed the drug warfarin it is not advisable to consume cranberry products. 
Suitable for vegetarians and vegans, raw and kosher diets and those on gluten and yeast free diets. 
WHERE IT'S FROM 
Our current batch of organic cranberry powder is made from cranberries grown on fertile plains by European farmers. 
Environmental impact 
As our organic cranberry powder is produced in the EU rather than Asia, it has not travelled as many miles to reach us here at NutriCraft. 
All EU produce has to adhere to very strict rules about production, so rest assured it has been sustainably sourced and everyone in the supply chain has the right to good working conditions and fair pay. 
Nutritional Information 
Nutritional Information (per 100g)
PACKAGING AND SIZES
We use resealable packaging to make sure our products are fresh and tamper proof. The pouches stand up on your shelf, nice and proud.
Packs range from 250g to 15kg.
Want more than the largest amount listed? No problem! Contact us for wholesale options.
SHIPPING
We ship to all EU countries. For more information on shipping to non UK addresses please refer to our Shipping page.
DISCLAIMER
As with all food and supplements, it is essential that you do your own research to decideif this product is right for you. It should be used as part of a healthy, balanced diet and should not be a substitute for regular exercise. While we believe that these products can be beneficial in many ways, they should not be taken instead of conventional medicine. Consult your doctor first if you suffer from any health problems or are pregnant or breastfeeding.