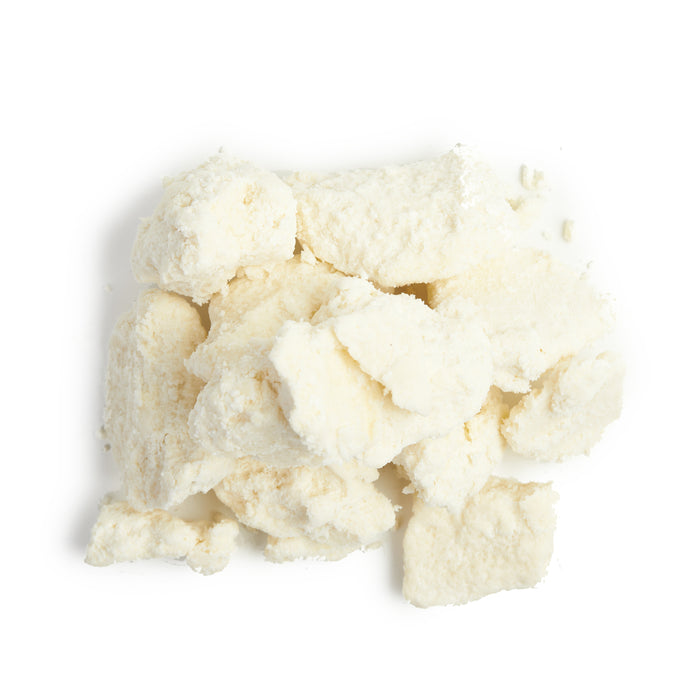 Organic Unrefined Shea Butter (food grade)
Why it's great quality
Hailed as the most natural, nourishing hair and skincare ingredient on the market, our collagen boosting organic shea butter bursts with antioxidants, fatty acids and vitamins A and E.
Our shea is food grade. Some people say you shouldn't put on to your skin what you wouldn't eat, this applies here.
Nothing added, nothing taken away. No additives or preservatives. No nasties.
A rich golden colour, our shea butter is rich in the nutty goodness of the shea tree, with no additives or preservatives. 
WHAT IT'S FOR 
Whether you're crafting a luxury skincare range or treating your kids' burns and bites, shea butter is a must-have in your bathroom cupboard. A natural hard worker, you can use it to treat the appearance of stretch marks and scars, as a natural lip balm, or as a leave-in conditioning treatment for your hair. 
Gentle enough for babies, anti-fungal and antibacterial, it's a natural barrier for nappy rash and can be used to soothe sore, chapped skin. 
Mix our shea butter with a few drops of essential oil and slather on as an organic alternative to after sun. Thirsty hair and skin will drink it up in no time. 
It can also be used as a cooking fat/oil, used by people from region its grown in for generations as a staple cooking ingredient.
Contraindications: None.
Suitable for vegetarians and vegans. 
WHERE IT'S FROM 
Native to West Africa, the shea tree has been harvested there for thousands of years. The trees' termite resistant wood only grows in fertile, well drained soils in warm conditions. Nuts from the shea trees are a source of vegetable butter, which has been used as a staple cooking oil in the region for years. 


Environmental impact 
Sustainable harvesting of the shea tree has been in practice for hundreds of years, simply because the importance of the tree to the locals has continued through time. The trees are respected and maintained by the farmers whose shea knowledge has been passed down many generations. 
The popularity of shea provides a stable income to families and villages, and we only work with suppliers who pay their farmers fair prices and have good working conditions.
Nutritional Information 
Nutritional Information (per 100g)
  of which saturates
47.2 g
PACKAGING AND SIZES
We use resealable packaging to make sure our products are fresh and tamper proof. The pouches stand up on your shelf, nice and proud.
Packs range from 250g to 25kg.
The 25kg option comes as a single box of organic shea butter. It does not come in individual 1kg packets.
Want more than the largest amount listed? No problem! Contact us for wholesale options. 
SHIPPING
We ship to all EU countries. For more information on shipping to non UK addresses please refer to our shipping page.
DISCLAIMER
As with all food and supplements, it is essential that you do your own research to decide if this product is right for you. It should be used as part of a healthy, balanced diet and should not be a substitute for regular exercise. While we believe that these products can be beneficial in many ways, they should not be taken instead of conventional medicine. Consult your doctor first if you suffer from any health problems or are pregnant or breastfeeding.