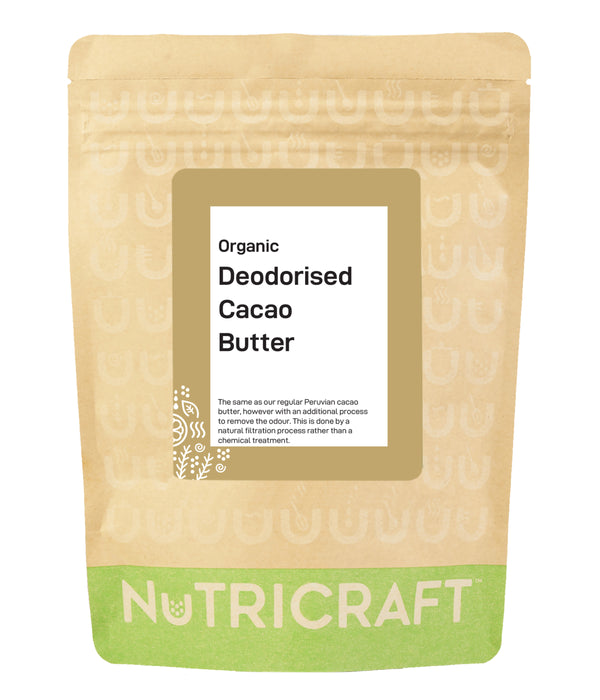 Organic Deodorised Cacao / Cocoa Butter (food grade)
Why it's great quality
The same as our regular Peruvian cacao butter, however with an additional process to remove the odour, making it suitable for other applications, particularly in the cosmetic industry. This is done by a natural filtration process rather than a chemical treatment.
WHAT IT'S FOR 
Our deodorised cacao butter is food grade, however it's most commonly used for skin care products such as body butters, where the strong cacao/cocoa scent can dominate other ingredients. While we love the smell, perhaps not everyone wants to smell like a box of chocolates 24/7...
Contraindications: None.
WHERE IT'S FROM
Our Criollo cacao beans are grown in the Peruvian Amazon, the spiritual home of cacao. 
Enjoyed by locals long before they shared its secrets with the outside world, cacao and Peru have an intertwined history. Almost all of Peru's cacao is grown by small holders who rely on it as their main source of income year-round. Most of the harvesting takes place between April and September and is called "la cosecha grande", which literally means "the big harvest" in Spanish. Their crop is sold to cooperatives who act as intermediaries. It's then processed in Peru before being trucked to Lima and exported to the UK.
Environmental impact 
Peruvian cacao is grown sustainably amongst trees or shrubs, using the Agroforestry land management system. This method has much less environmental impact than the fertiliser-heavy plantations that are common in West Africa and which cause so much deforestation.
Nutritional Information 
Nutritional Information (per 100g)
PACKAGING AND SIZES
We use resealable packaging to make sure our products are fresh and tamper proof. The pouches stand up on your shelf, nice and proud.
Packs range from 100g to 25kg. 
The 25kg block option is a solid block of cacao butter intended for wholesale. They do not come in individual 1kg packets. They come in a carton with a plastic wrapper on the inside.
Want more than the largest amount listed? No problem! Contact us for wholesale options. 
SHIPPING
We ship to all EU countries. For more information on shipping to non UK addresses please refer to our Shipping page.
DISCLAIMER
As with all food and supplements, it is essential that you do your own research to decide if this product is right for you. It should be used as part of a healthy, balanced diet and should not be a substitute for regular exercise. While we believe that these products can be beneficial in many ways, they should not be taken instead of conventional medicine. Consult your doctor first if you suffer from any health problems or are pregnant or breastfeeding.

caco, cacoa