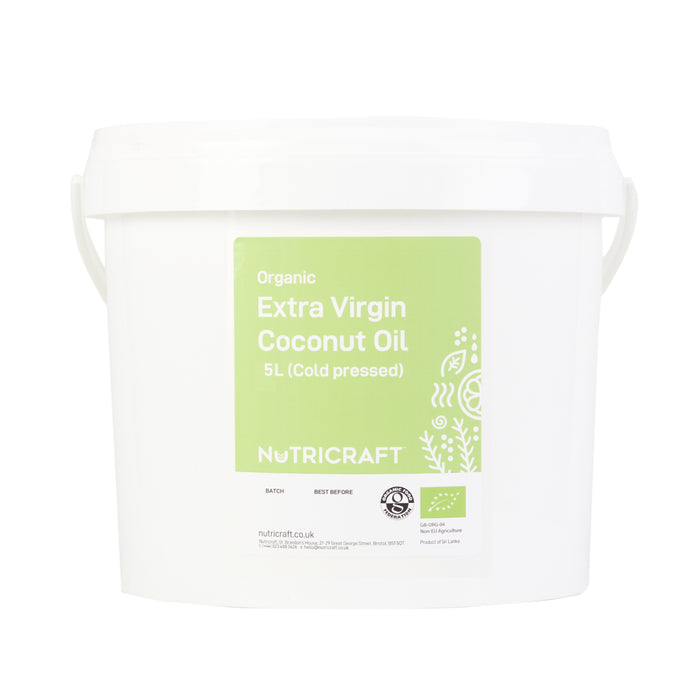 Organic Coconut Oil (Extra Virgin Cold Pressed)
Why it's great quality
This is 100% pure organic raw cold pressed extra virgin coconut oil – the very best coconut oil on the market. Here's why:

We only use the white meat of the coconut - none of the husk - meaning that both the purity and colour of our coconut oil is exceptionally good. Other brands use bits of the meat that touch the shell, which can be slightly yellow and less smooth.

The level of iodine in coconut oil shows how good the quality is. Our virgin coconut oil has the lowest iodine content of the various grades of coconut oil. A lot of brands use the cheaper "whole kernel" coconut oil which has a higher iodine content and is less good quality. This is especially noticeable in the consistency of the oil – bad news for crafters wanting to make serious skincare products, or coconut smoothies.

Our certified organic coconut oil is also Food Grade - the highest grade available. This makes it ideal for chocolate making as well as for making hair care and skincare products.

Nothing added, nothing taken away. No additives or preservatives. No nasties.

Cold pressed from the fresh kernels of the coconut fruit to preserve the delicate taste that The New York Times describes as "a haunting, nutty, flavour with a touch of sweetness." Fancy.

Cold pressing also better preserves all of the nutrients - proteins, fats, minerals, vitamins, and antioxidants.

Shipped in a resealable tub with an inner bag, so it arrives fresh and stays that way.
What it's for
Extra virgin coconut oil is a healthy and delicious replacement for butter or fat. Use it for sautéing vegetables, roasting sweet potatoes, baking pastries or cakes, or splashed over popcorn as a special treat.
Our organic coconut oil also has lots of cosmetic applications. Whether you're making your own silky hair conditioner or creating a natural skin moisturiser for your friends and family (with an eye to global domination), this high-grade coconut oil will have you, and your customers (or your Mum), coming back for more.  
Top tip:  You can also use our organic coconut oil to soothe and heal bee stings and bug bites (tried and tested by our founder Alex in the depths of the Amazon).
Contraindications: None.
Where it's from
Our 100% pure organic raw cold pressed extra virgin coconut oil is specially imported from the ancient coconut estates of Sri Lanka, where it's long been depended on by locals as a nutrient-rich treasure trove.

We only use adult humans to pick and refine our coconuts. Never human children or monkeys. We're not joking. In some regions of the world pig-tailed macaques are made to collect hundreds of coconuts a day; they are shackled and worked so hard they faint. We will have no part in slavery, human or animal.

Environmental impact
We only work with Sri Lankan virgin coconut estates because they use organic compost fertilisers, not chemicals.
Nutritional Information 
Nutritional Information (per 100g)
  of which saturates
93.9 g
PACKAGING AND SIZES
We use resealable packaging to make sure our products are fresh and tamper proof.

From 1 litre jars to 20 litre buckets.

1L option comes in a glass jar. It looks better in the kitchen than plastic, it's more environmentally friendly, and it's reusable and recyclable.

The 5 litre, 10 litre and 20 litre wholesale options come in a heavy-duty plastic bag inside a resealable bucket, a bit like wine in a box. Cut the bag open and scoop out what you need, then shut the bucket. Or melt by putting the bag in a hot bath, then unscrew the cap and pour what you need. You can melt it as many times as you need to – no harm done. You can reuse the bucket for whatever you like once your oil is finished.

Want more than the largest amount listed? No problem! Contact us for wholesale options.
Shipping
Important: we cannot ship 5 litre plus pails to the following regions/countries: Andorra, Azores, Balearic Islands, Canary Islands, Corsica, Gibraltar, Greece, Madeira, Malta, San Marino, Sardinia, Sicily, Turkey and Vatican City, Norway or Switzerland. This is because coconut oil is technically a liquid and it's illegal to send large quantities of liquids by plane. If you live in a restricted area you are allowed a maximum of 5 x 1 litre containers. If you order a larger pail and you request delivery to a restricted address your order will be refunded and cancelled. Sorry for any inconvenience!

Other destinations are shipped by road and the restriction does not apply.
Disclaimer
As with all food and supplements, it is essential that you do your own research to decide if this product right for you. It should be used as part of a healthy, balanced diet and should not be a substitute for regular exercise. While we believe that these products can be beneficial in many ways, they should not be taken instead of conventional medicine. Consult your doctor first if you suffer from any health problems or are pregnant or breastfeeding.