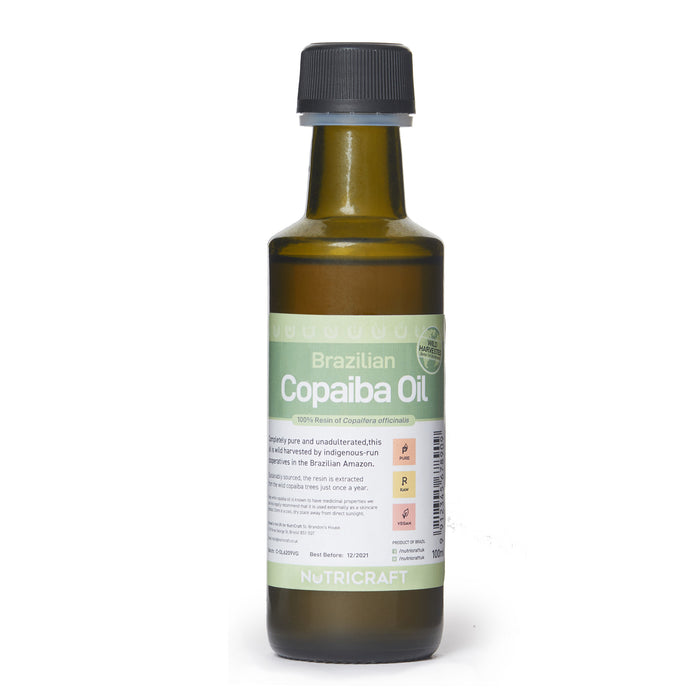 Copaiba Oil (Pure Tree Resin)
Why it's great quality
This Amazonian oil is sustainably harvested by indigenous communities in the Brazilian Amazon. The sap is extract from the trunks of wild copaiba resulting in this resin. Completely pure and unadulterated, it has a pleasant aromatic scent and has been shown to have anti-microbial and anti-inflammatory properties. 
WHAT IT'S FOR 
It's a great ingredient for your home made skincare products as a secret ingredient to really give them some rainforest magic, or can be used straight out of the bottle on your skin.
Contraindications: while copaiba oil is known to have medicinal properties we can only legally recommend that it is used externally as a skincare product.
WHERE IT'S FROM
Copaiba is indigenous to all of Amazonia, however ours is from Brazil.

Environmental impact 
Our Copaiba Oil is wild harvested and trees are tapped just once a year to ensure that minimal harm is done.
PACKAGING AND SIZES
The oil comes supplied in a sturdy glass bottle with a tamper evident plastic cap.
We stock 100ml, 250ml and 500ml bottles.
Want more than the largest amount listed? No problem! Contact us for wholesale options. 
SHIPPING
We ship to all EU countries. For more information on shipping to non UK addresses please refer to our Shipping page.
DISCLAIMER
As with all food and supplements, it is essential that you do your own research to decide if this product is right for you. It should be used as part of a healthy, balanced diet and should not be a substitute for regular exercise. While we believe that these products can be beneficial in many ways, they should not be taken instead of conventional medicine. Consult your doctor first if you suffer from any health problems or are pregnant or breastfeeding.