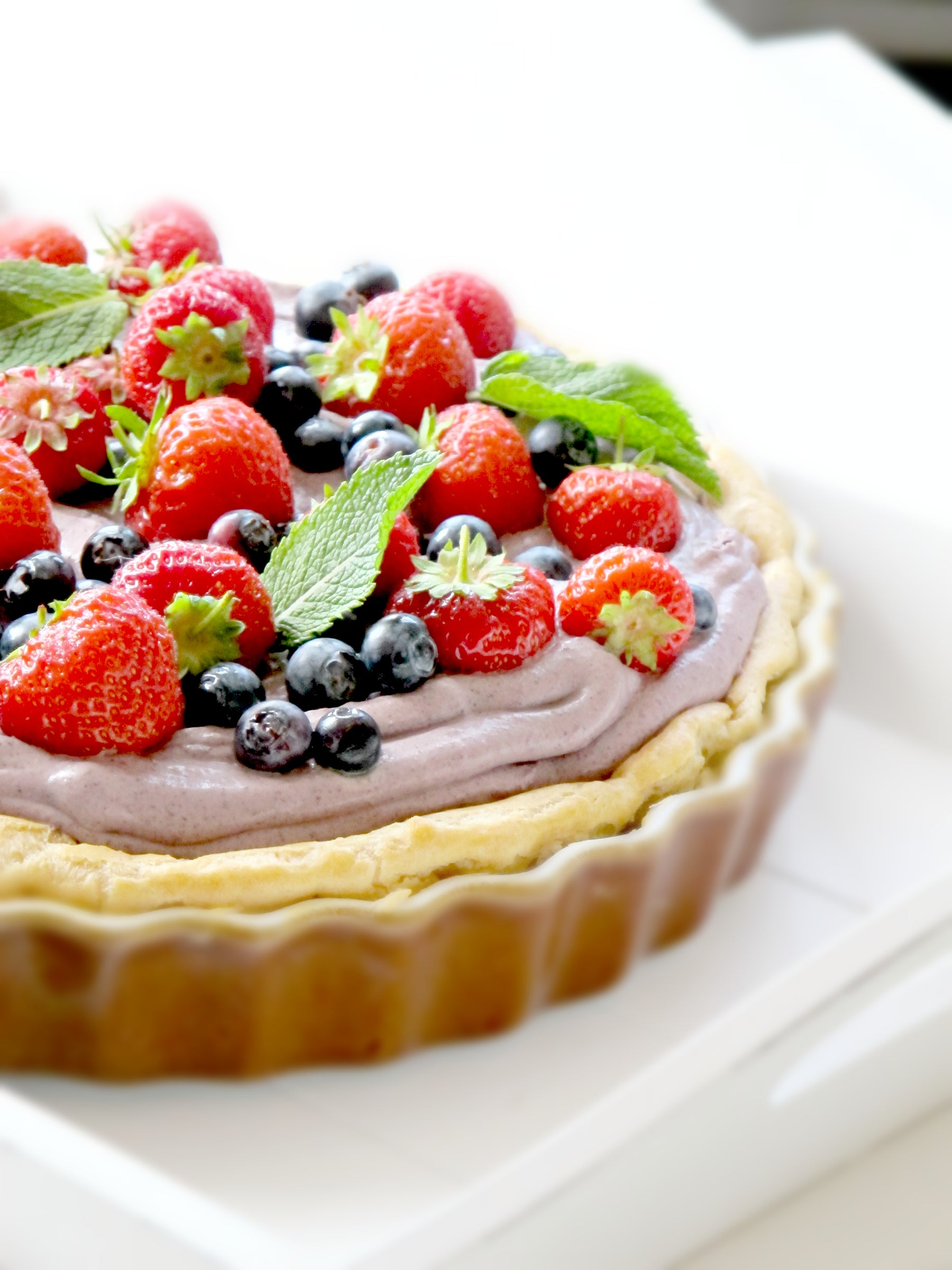 Summer Fruit Éclair Pie with Acai Cream
Ingredients
For the pastry:
175ml water
a pinch of salt
75g unsalted butter
100g strong white bread flour
3 medium eggs
For the pastry cream:
600ml milk
6 egg yolks
100g granulated sugar
40g cornflour
40g plain flour
For the acai cream:
300ml whipping or double cream
3 tablespoons icing sugar
2 tablespoons acai powder
Other items:
around 200g berries of your choice
a handful of mint leaves
a 20 cm ceramic flan dish, pie dish or a cake tin
Method
To make the pastry:
Place the butter, salt and water in a medium saucepan.
Cook over a medium heat until the butter has melted.
Turn up the heat to high and cook until the mixture is boiling.
Quickly add the flour to the mixture and whisk rapidly with a wooden spoon until it comes together and forms a neat ball.
Turn down the heat to medium, and cook while whisking energetically for another two minutes (be careful not to burn the dough).
Place in the fridge until the dough has cooled down completely.
Add the eggs, one at a time and mix until a smooth paste forms.
Using your fingertips, line the baking dish with the pastry.
Preheat the oven to 200°C and bake the pastry for 15 minutes. Reduce the temperature to 180C and bake for further 20 minutes.
Let the pastry cool down completely before filling with cream.
To make the pastry cream:
Pour the milk into a large pan and heat over a medium heat until it boils.
Take off the heat and set aside.
In a medium bowl, beat the eggs and sugar with an electric mixer until pale and creamy. Add the plain flour and cornflour and continue beating until combined.
Finally add 125ml (half cup) of the warm milk and mix.
Transfer the mixture to the pan with remaining milk and set over a medium heat to cook while whisking continuously.
Bring the mixture to boil and continue cooking until it has thickened slightly. Set aside to cool down.
To make the acai cream:
Pour the cream into a medium bowl.
Add icing sugar and acai powder.
Beat with an electric mixer until stiff.
Fill the éclair pastry with the pastry cream first, then with the acai cream. Top with some fruit and mint leaves.
Store the pie in a fridge.