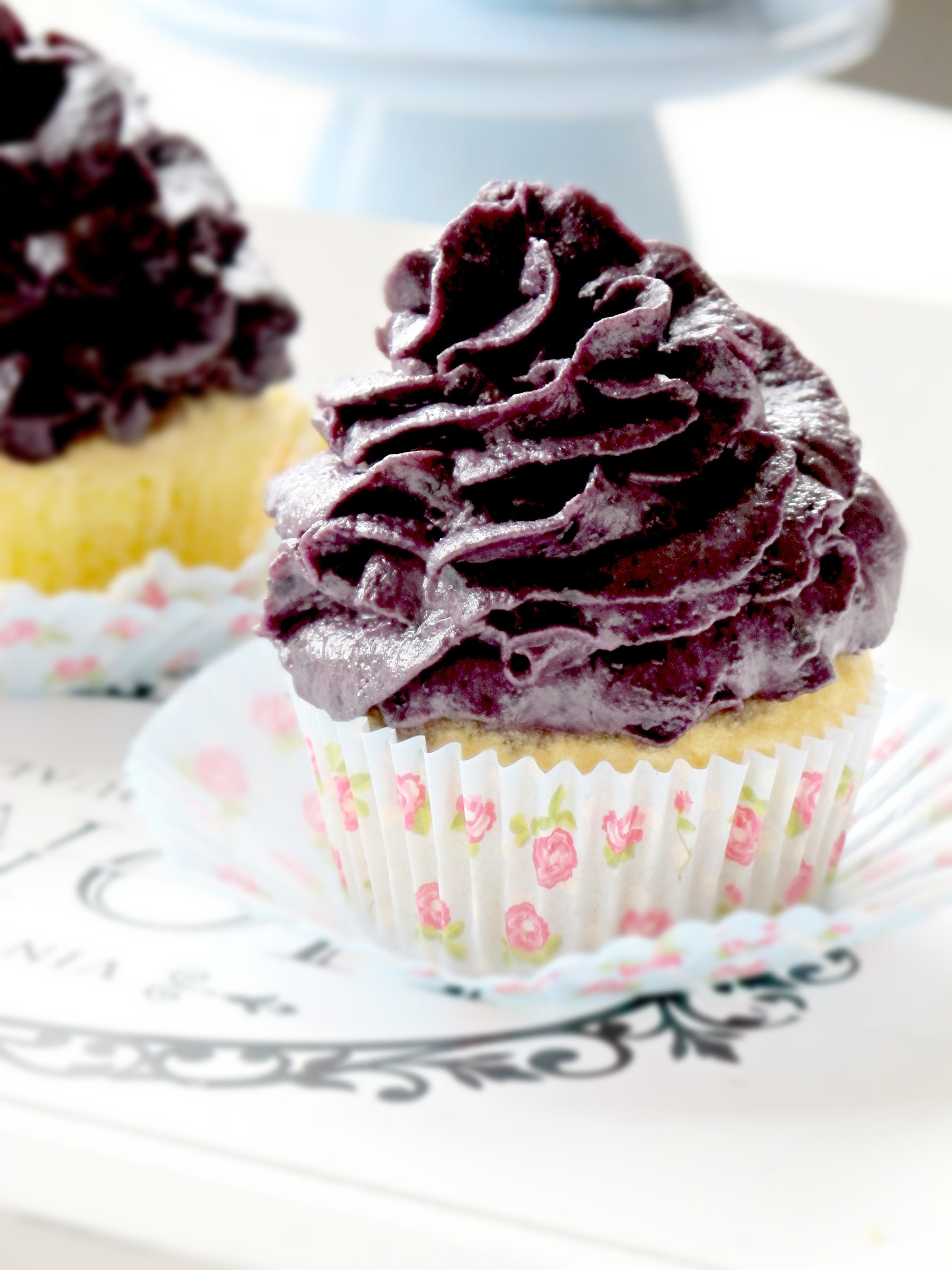 Gluten Free Cupcakes with Acai and Blueberry Frosting
This article is from our guest blogger The Bake Away. You can find more delicious recipes here
Ingredients
For the cupcakes:
150g rice flour
50g cornflour or potato starch
1 teaspoon baking powder
130g granulated sugar
3 medium eggs
70g unsalted butter
For the acai and blueberry frosting:
340g fresh or frozen blueberries
125g granulated sugar
3 tablespoons acai powder
375g mascarpone cheese
1 gelatin sheet
Equipment required:
12 hole muffin tin
12 cupcake liners
A piping bag
Large star piping tip
Method
To make the cupcakes:
Combine the rice flour, cornflour and baking powder in a medium bowl. Set aside.
Beat the butter and sugar with an electric mixer until pale and fluffy.
Add the eggs, one at a time and continue beating.
Sift in the dry ingredients and mix well until well combined.
Divide the mixture equally between 12 muffin cups.
Bake in 180°C for around 20-25 minutes.
To make the frosting:
Place the blueberries and sugar in a small pan and set over a medium heat to cook.
Meanwhile, soak the gelatin sheet in cold water for 5 minutes.
Bring the blueberry mixture to boil and add the gelatin sheet. Continue cooking for around 10-15 minutes.
Take the blueberry sauce off the heat and whisk in the acai powder. Set aside to cool down completely.
Beat the cold blueberry sauce and mascarpone cheese with an electric mixer until smooth and shiny.
Transfer the frosting to a piping bag with a star nozzle attached and pipe around the cupcakes.
Store in the fridge.