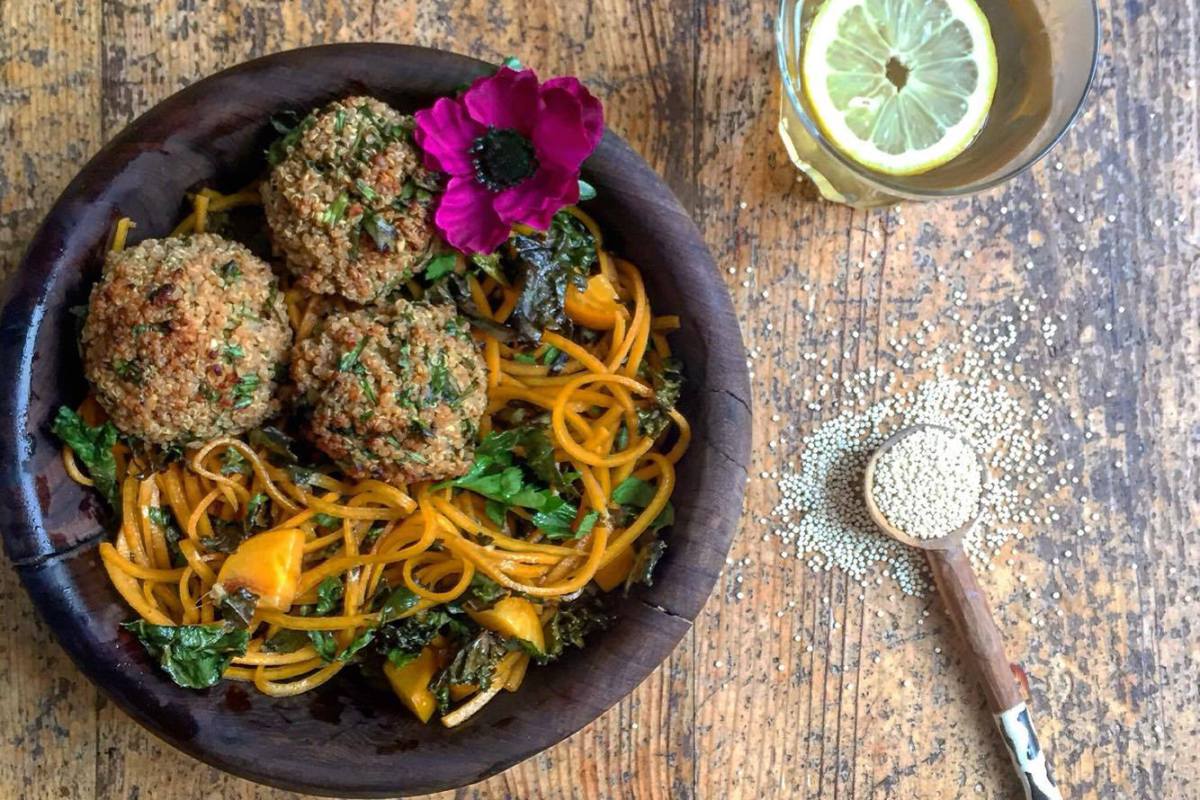 Miso Quinoa Balls with a Butternoodle Salad
This article is from our guest blogger Luca Bogen, view more of her amazing recipes here
Sorry that it's been so long since my last post, I've been busy taking a break from cooking up dishes (which I have missed!) and focusing on strengthening other parts of myself. It's really important to take care of yourself, we work way too much and take on too many projects and commitments and it can be exhausting. Sometimes you just need to say no, take a short pause, and let your body and mind take some time to breathe. 
So on my first day back in the kitchen the sun and the flowers outside inspired me to create this colourful summer dish. I also wanted to make something really easy but also delicious, a light lunch you can take to work or a pretty dinner to have with loved ones. 
I've seen quinoa balls done before, but I wanted to try a new flavour with my absolute favourite ingredient – miso! Quinoa is amazing to add to your diet as it contains 8 grams of protein per cup and a full range of amino acids meaning it has better a quality and quantity of protein than most grains. It is also very rich in fibre, contains magnesium and iron and it's gluten-free. So yes, you can get most of your nutrients from plant-based foods!
I've made a quick salad to go with the quinoa but you can make anything from a leafy green salad to roast vegetables.
Makes 6-8 quinoa balls and a salad for two
Ingredients
For The Quinoa Balls:
1 Cup Organic White Quinoa
2 Cloves Garlic Finely Chopped
10g Chives
1 Tbsp Unpasturised Brown Rice Miso Paste
1 Tbsp Organic Set Honey
1 Tsp Lemongrass Paste
1 Tsp Tamarind Paste
1 Tsp Chilli Paste
1 Tbsp Organic Coconut Oil (Virgin Cold Pressed)
1 Lemon
Tamari Soy Sauce
Salt
Pepper
1 Egg (for non-vegans) OR 1 Tbsp Chia Seeds (for vegans)
Flaxseeds
For The Butternoodle Salad:
Half a Butternut Squash, Peeled
150g Kale
A Handful of Fresh Parsley
4-5 Spring Onions
A handful of sunflower seeds
1 Tbsp Organic Coconut Oil (Virgin Cold Pressed)
3 Tbsp Extra Virgin Olive Oil
1-2 Tbsp Balsamic Vinegar (pour to taste!)
1 Tsp Mustard or Horseradish
1 Tbsp Honey
Equipment:
Spiralizer – If you can't make these because you don't have a spiralizer then
you should invest in one they are magic! Otherwise, Sainsbury's know how
it's done and sell them in packets ready made into noodles!
Saucepan & Wooden Spoon
Oven Proof Dish x2
Greaseproof Paper
Mixing Bowl x2
Oven
A small jar
Method
Heat the oven to 200c/180c fan/gas 6.
To cook the quinoa, measure 1 cup of quinoa and pour into a saucepan and add 2 cups of cold water. I usually just use a small glass and fill to the top, then use the same glass and measure 2 cups of water with it. Bring to the boil and then simmer for 15-20 mins until the quinoa becomes light and fluffy. Add a little olive oil, fluff with a fork and leave it to cool for 10 minutes in a cool bowl.
In an ovenproof dish butter the bottom of it with coconut oil and pour the kale on top. Add a few pinches of salt and put in the oven for 10-15 minutes until the kale is crispy. Turn half way through and toss the kale in the coconut oil and salt.
While the kale is cooking and the quinoa is cooling, heat the miso, honey, lemongrass, tamarind, chilli paste and coconut oil on a low heat and simmer whilst stirring continuously until it becomes a sauce. Take off the heat and add to the quinoa to the mixing bowl. Add the chives, garlic, a few splashes of tamari soy sauce to taste, squeeze in the lemon and stir. To bind the mixture add 1 beaten egg. Or alternatively for an egg substitute, grind the chia seeds into a mortar and pestle or food processor with 3 tbsp of water and stir. Let it sit for 5 mins and it will become an egg like consistency.
Once you have your binded mixture you can make quinoa balls! Sprinkle some flaxseeds on your work surface, roll up the quinoa in your hands to form a ball and then roll in the flaxseeds to cover.
Place on an ovenproof dish lined with greaseproof paper and put into the oven for 25-30 minutes until golden brown.
By this point your kale should be out and ready. Leave it to cool for a while whilst you make your butternut noodles with you spiralizer. Cut the butternut into easy to spiral pieces, and once you have your noodles place in a mixing bowl. Add your crispy kale, spring onions, fresh parsley and sunflower seeds and muddle to combine the ingredients.
For your salad dressing add the olive oil, balsamic vinegar, honey, mustard/horseradish and some salt and pepper into your jar, close the lid and shake! The sauce is yours so add a little more of anything you think it needs, I love my balsamic so I always sneak some more in there. Pour your dressing over the noodle salad and stir.
Once your quinoa balls come out of the oven leave them to cool for 10 minutes or they will break, and then serve up with your noodles!
I hope you love it and are inspired to create some quinoa balls of your own flavours..
Love Always
Luca xxxx
This post was originally found on Consume Positivity, please visit for more great ideas and recipes