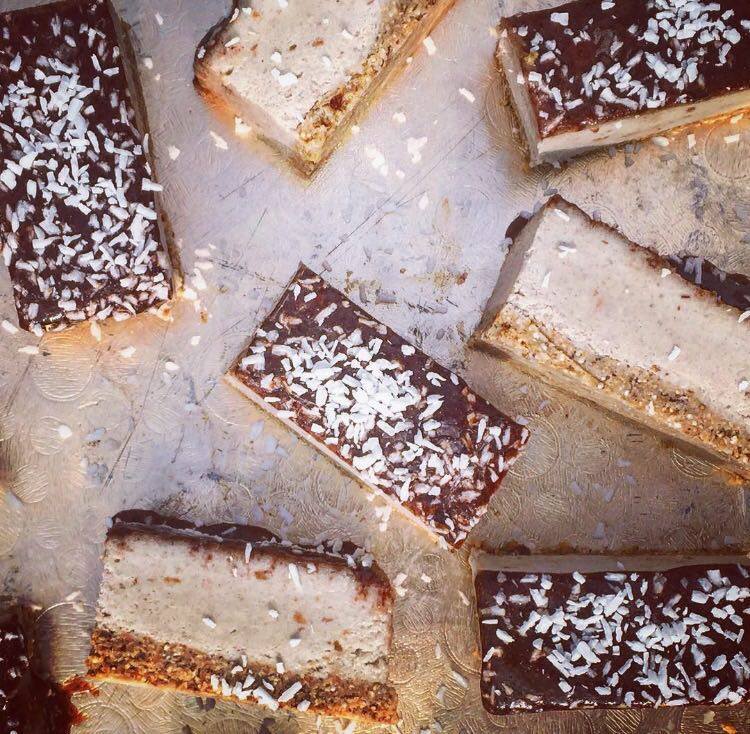 Cashew and Coconut Raw Chocolate Caramel Slices
This article is from our guest blogger Luca Bogen,  view more of her amazing recipes here
Being vegan doesn't mean that you can't eat chocolate, cakes and all things sweet and delicious! There are so many vegan chefs making the most incredible vegan cake recipes, vegan chocolate, vegan truffles, the list goes on… I'm going to be bringing you these tasty revolutionary food ideas so you can stay healthy and still enjoy chocolate.
Sidestep the commercial supermarkets, where the sweet foods have an obscene amount of refined sugar and processed wheat, and spend a little time on your weekend making something of your own using raw ingredients.
No added sugars, no gluten, no nasty additives, no dairy; I promise you these taste unbelievably good. Even my boyfriend who is a Haribo addict loves these, but they are actually GOOD for you. Packed with proteins from nuts – cashews have 18g of protein per 100g – plant protein is good for you! Raw Cacao is one of the richest sources of antioxidants on the planet and coconut cream contains fatty acids that give you energy without being fattening!
These are perfect after a workout to replenish your body or as a little sweet treat. Enjoy!
Ingredients
For The Base:
2 Cups of Popped Amaranth
1 Cup Walnuts
2 Tbsp Flaxseeds
4/5 Dates – Buy a block of pitted dates it so much cheaper and if you do use 1/3 of the block
For The First Layer:
3 Cups of Soaked Cashews (soak these overnight or just for a few hours before using)
1 Packet of Coconut Cream – This is the one I use without guar gum and additives
1 Banana
70g Shredded Coconut
4/5 Dates – Again, I use a block and just use 1/3 of it
For The Top Layer:
2 Tbsp Raw Set Honey or Maple Syrup or Date Syrup
a pinch of himalayan salt
Method
In a blender add all of the base ingredients and blend. Add a little more coconut oil if the mixture is becoming too thick but it should turn into a nutty, creamy consistency.
In a baking tray or a square dish lined with greaseproof paper, pour your mixture and spread it evenly to create your first layer and put it in the freezer for approximately 30 minutes.
Blend the ingredients for the second layer and pour over the first layer. Freeze for 3 hours.
Melt the ingredients for the top layer and pour over the frozen layers, then sprinkle with shredded coconut.
Put back in the freezer for another 30 to 45 minutes until the chocolate has hardened.
When you take it out leave it to soften a little in the fridge and then cut into slices to store in the freezer for when you would like a little treat.
Love Always
Luca
This post was originally found on Consume Positivity, please visit for more great ideas and recipes