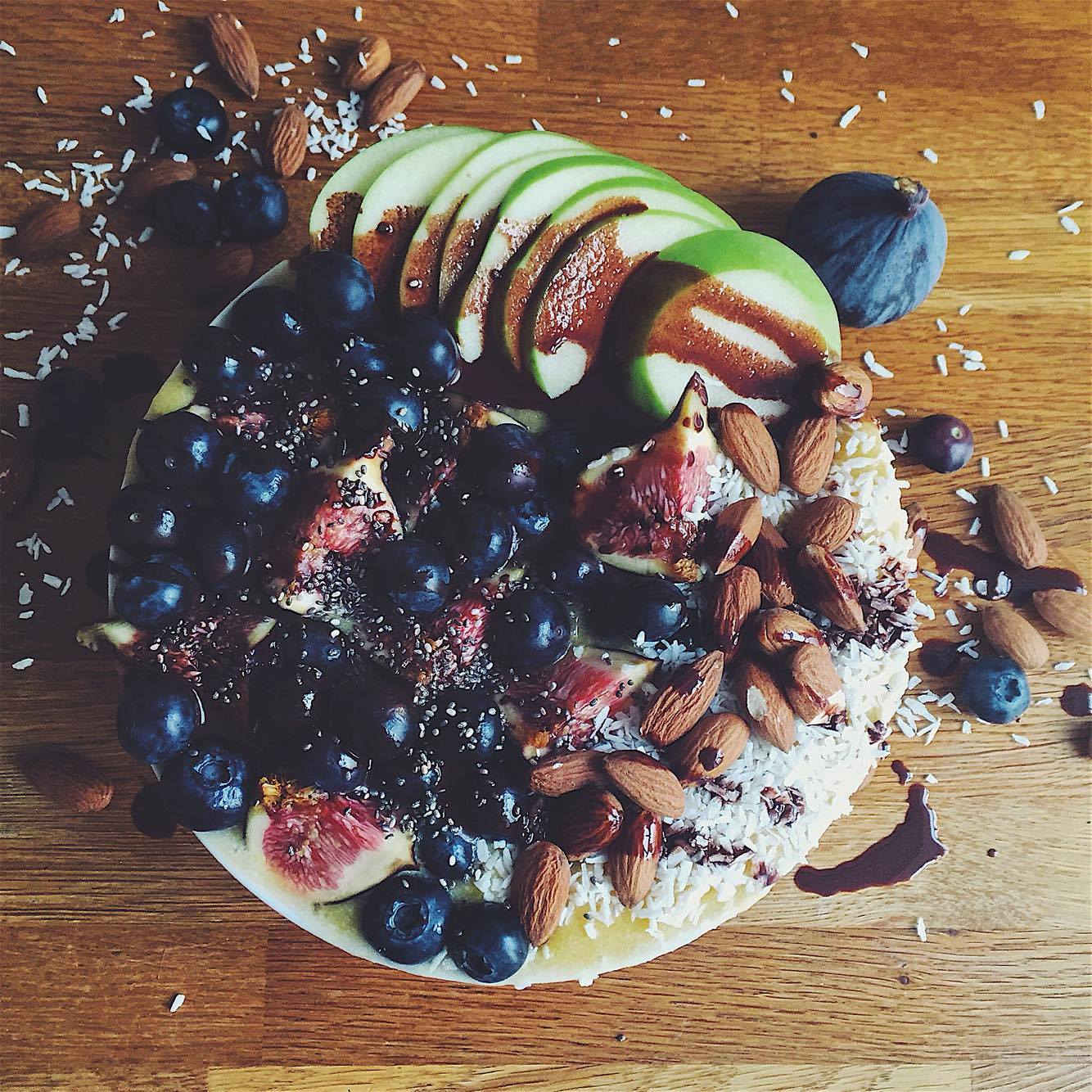 Banana, Mango and Coconut Nice Cream
This article is from our guest blogger Luca Bogen, view more of her amazing recipes here
If you haven't already heard of #nicecream, the instagram vegan sensation, it's a vegan version of ice cream which is made from blending frozen bananas. You can mix the bananas with any other ingredients from fruits to superfoods to make the most delicious bowl of frozen goodness which doesn't contain any dairy, extra sugar or unnecessary toxic ingredients – for a happy mind, body and soul.
I always have chopped up pieces of frozen fruit in my freezer ready to make my nice cream bowls. For bananas, make sure you peel them first and cut into small pieces before putting them in cling film in the freezer. I like to chop up mangos, nectarines, papayas, avocados, kiwi fruits and also freeze strawberries, grapes, raspberries and blackberries. You may be thinking, hang on that's an expensive purchase right there, and yes all of these fruits sometimes don't come cheap. I tend to buy two to three types a week from the local markets, not supermarkets. You'll find markets are cheaper (and usually better quality fruit), and when you take into account not buying any meats, cheese or pretty much anything processed your spending drops dramatically making room for all of these delicious fruits!
Ingredients
For the nice cream:
Frozen Bananas (you need two for one bowl but it's best to freeze a bunch at a time so you always have plenty!)
Frozen Mango pieces (I've used one large mango in the recipe)
1 Tbsp Organic Raw Coconut Oil
30ml Hemp Milk (you can use any milk alternative but I love hemp as it doesn't contain added sugar)
For the topping:
1 Apple
3 Figs
A Handful of Blueberries
A Handful of Almonds
1 Tbsp Desiccated Coconut
For the chocolate drizzle:
2 Tbsp Organic Raw Cacao Powder
1 Tbsp Organic Raw Coconut Oil
Method
Take the frozen banana and mango pieces out of the freezer
While the pieces are slightly defrosting for a few minutes, thinly slice your apple and cut the figs into quarters for your topping
Blend the frozen fruit pieces with the coconut oil and hemp milk, starting on a medium setting and then speeding up slowly. Give it time for all the chunks to dissolve and you will soon end up with a creamy mixture. You can always add more milk, I really just put the smallest amount in to help with the blending.
As many vegan and raw food recipes contain blending it is worth investing in a good quality blender as it will really enhance all of your cooking, I have a Magimix and a glass blender from Phillips which I bought at John Lewis. Both really help with all of my cooking.
Once you have your nice cream, scoop it out into a bowl and top with the fruit and all of the toppings
The chocolate drizzle is the finishing touch but makes this recipe what it is!
On a very low heat, put the coconut oil in a small saucepan. As it starts to melt, add the cacao powder and stir with a wooden spoon until it has completely melted
Drizzle this over your bowl and enjoy! The chocolate will start to set leaving chocolate chunks over your fruit, so delicious and will keep you going all morning.
Love Always – Luca
This post was originally found on Consume Positivity, please visit for more great ideas and recipes
This document has been composed with the online HTML editor. Use the online visual HTML converter will help you a lot while you are working on your articles.