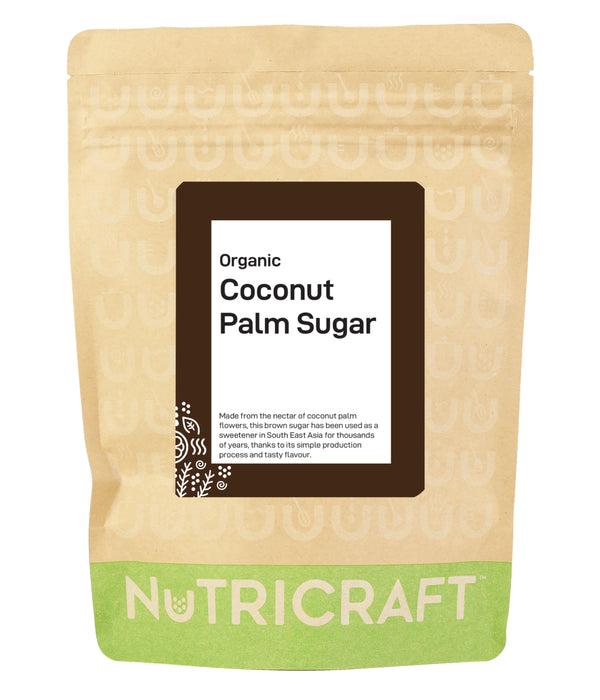 Organic Coconut Palm Sugar
Why it's great quality
Coconut palm sugar (also known as coconut sugar) is nectar tapped from the blossom of the coconut tree. The nectar is gently heated to remove moisture, and the remaining syrup is left to dry out naturally, leaving behind pure coconut palm sugar. 
100% pure coconut sugar. Nothing added, nothing taken away. No additives or preservatives. No nasties. 
Completely natural, our coconut palm sugar does not undergo any refining process or filtration. It is more nutritious and lower on the glycaemic index (GI) than regular sugar, giving you a slower-release energy. It contains iron, zinc, calcium and potassium, plus antioxidants. 
WHAT IT'S FOR 
Subtly sweet with a slight caramel edge, coconut sugar can be used as a direct replacement for normal sugar. Golden brown in colour, organic coconut palm sugar is perfect if you are looking for a more natural sugar alternative. It has a very low melting point and a high burn point, making it a suitable sweetener for makers of organic confectionery or for nature-inspired home bakers.
Contraindications: None.
Suitable for vegetarians and vegans, kosher diets and those on gluten and yeast free diets. 
WHERE IT'S FROM
Coconut sugar has been used as a traditional sweetener in South East Asia for thousands of years, thanks to its simple process and tasty flavour. Our organic coconut sugar is produced in Indonesia, where the coconut plant is in abundant supply and the nectar is sustainably harvested.
Environmental impact 
The United Nations Food and Agriculture Organisation named coconut sugar the single most sustainable sweetener in the world in 2014. Coconut trees use minimal amounts of water and fuel, contain no artificial ingredients and are not chemically altered in any way. Growing trees improve the soil structure and can turn marginalised lands into lush jungle. 
Nutritional Information 
Nutritional Information (per 100g)
PACKAGING AND SIZES
We use resealable packaging to make sure our products are fresh and tamper proof. The pouches stand up on your shelf, nice and proud.
Packs range from 250g to 20kg.
Please note the sack options come as whole sacks of coconut sugar, not individual 1kg packs.

Want more than the largest amount listed? No problem! Contact us for wholesale options.
SHIPPING
We ship to all EU countries. For more information on shipping to non UK addresses please refer to our Shipping page.
DISCLAIMER 
As with all food and supplements, it is essential that you do your own research to decide if this product is right for you. It should be used as part of a healthy, balanced diet and should not be a substitute for regular exercise. While we believe that these products can be beneficial in many ways, they should not be taken instead of conventional medicine. Consult your doctor first if you suffer from any health problems or are pregnant or breastfeeding.