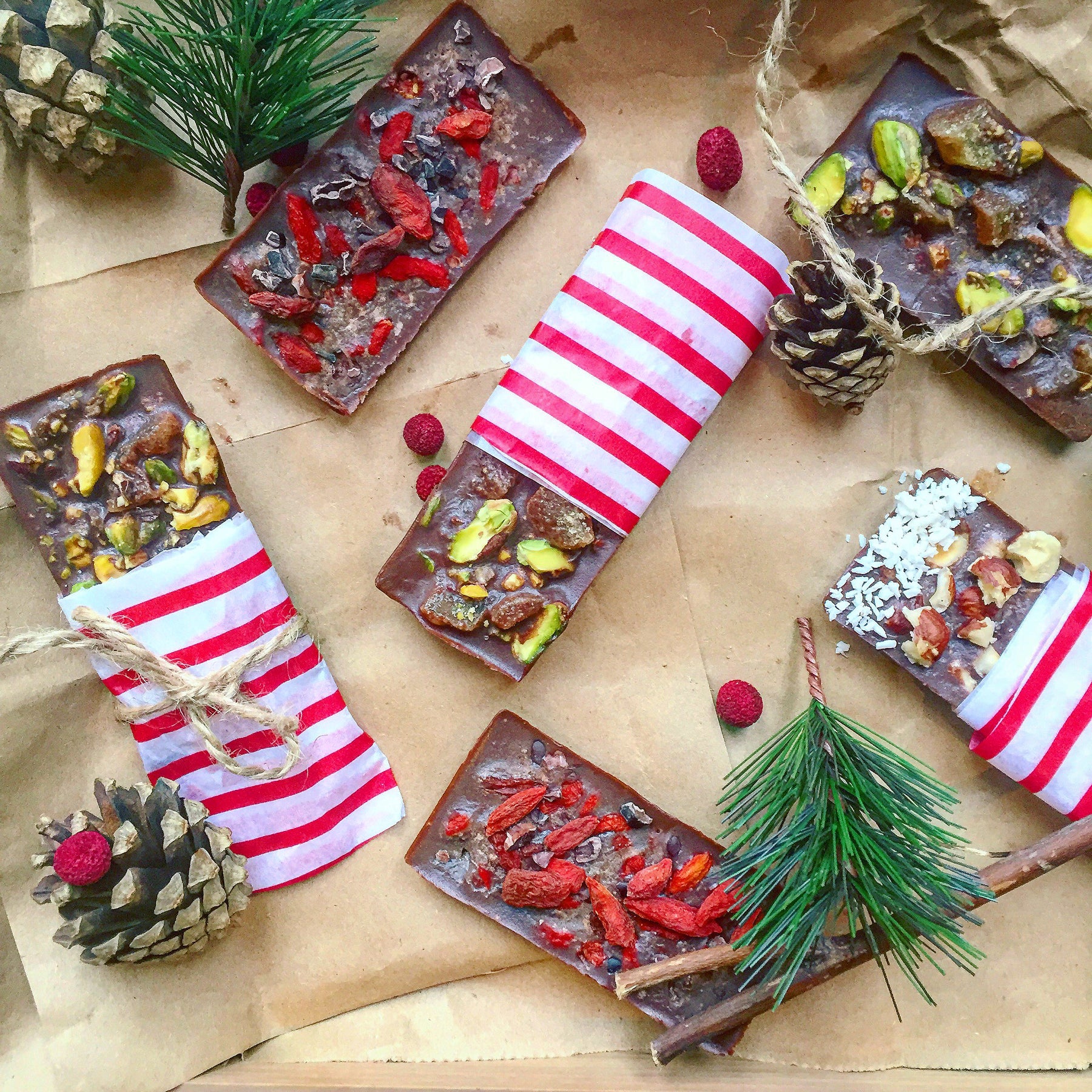 Raw Chocolate Candy Bars
This article is from our guest blogger Luca Bogen, find more of her amazing recipes here

Over the Christmas period the supermarkets are flooded shelves with Cadbury's Christmas selections, Toblerones and many other highly processed, full of sugars, dairy and excess fats. If we stay clear of these health damaging and un-environmentally friendly (many contain palm oil which is a leading cause of deforestation in the tropics) foods all year round, why at Christmas do we suddenly go mad for them? Christmas is for love, so we should continue to love our planet and nurture our bodies with loving ingredients at this time of year.
So, this year I've created my own chocolate bars, in the hopes that this will be the first Christmas of many that I steer clear of processed chocolates, and enjoy chocolate the best way; homemade, raw, naturally sweetened and deliciously rich and creamy using Raw Cacao Powder over supermarket Cocoa Powder with sugar and other additives.
Why is Raw Cacao any better than Cacao?
Raw cacao beans come from the Theobroma Cacao tree, which literally means "cacao, food of the gods". The beans that grow from these trees are indeed divine as they are one of the most antioxidant-rich foods on the planet! The antioxidants protect the cells in the body, promoting healthier skin and helping with anti-ageing. Raw cacao is also a natural anti-depressant and an energy booster, and contains essential vitamins and minerals including high levels of magnesium.
This superfood is then turned into a not-so-superfood by roasting the beans at high temperature levels, stripping the beans of their naturally occurring antioxidants, and therefore eliminating many of the wonderful health benefits. The roasted beans are then combined with sugar, dairy, fats and GMO products to create the chocolate we all know and love, and we are left with no trace of the beautifully raw and healthy ingredient. Sometimes cocoa powder is also Dutch processed, which means it's treated with an alkalising agent in order to give it a milder taste. Why you would want to tone down the delicious taste of raw cacao is a mystery!
I have created this basic chocolate recipe for you to make your own healthy chocolates at home, but once you have the basics you can experiment with flavours and get creative. You can buy great value chocolate moulds off Amazon, I bought the Lékué 9 Cavity Gourmet Financier Mould, Black which makes 9 bars. Decorate your chocolates for your guests by wrapping them in tissue paper or brown baking paper with ribbons for truly beautiful hand crafted Christmas magic.
Store your candy bars in the fridge as they will melt slightly when in room temperature. I like to wrap them in baking paper and store in a jar in my fridge. 
Makes about 9 chocolate bars, each one 35ml in volume
Ingredients
Chocolate:
100g Coconut Oil
50g Raw Cacao Butter
30g Raw Cacao Powder
6 Tbsp Maple Syrup
Flavour One:
40g Pistachios
40g Crystallised Ginger
Flavour Two:
1 Tsp Vanilla Bean Paste
60g Hazelnuts
Flavour Three:
1 Tsp Orange Extract
50g Goji Berries
30g Cacao Nibs
Method
First crush your nuts and roughly chop the ginger. Fill three chocolate moulds with pistachios and ginger, three with hazelnuts and three with goji berries and cacao nibs until they are full.
To melt the chocolate set a heatproof bowl over a saucepan of water on simmer, making sure the bowl doesn't touch the water. The aim is to keep the temperature nice and low so the raw cacao isn't damaged by the heat. Put the coconut oil and cacao butter into the bowl and let it melt, stirring occasionally. Add the maple syrup and continue to stir until all the butter and oil have dissolved. Slowly sift the cacao powder over the mixture, and stir slowly until all has dissolved and becomes a melted chocolate consistency.
Pour the melted chocolate evenly into three small bowls. Add the vanilla bean paste to bowl 2 and the orange extract to bowl three. Once you have stirred in the flavours, pour bowl 1 over the pistachios and ginger, bowl 2 over the hazelnuts and bowl 3 over the goji berries and cacao nibs.
Set in the fridge until hardened, this should only take around 3-4 hours. Once they have set remove from their cases and wrap them in baking paper or any Christmas paper you like and store in a airtight container, I store mine in a big jar or you can serve immediately on a tray layered in tissue paper for you guests to enjoy.
Love Always,
Luca xxxx
This post was originally found on Consume Positivity, please visit for more great ideas and recipes