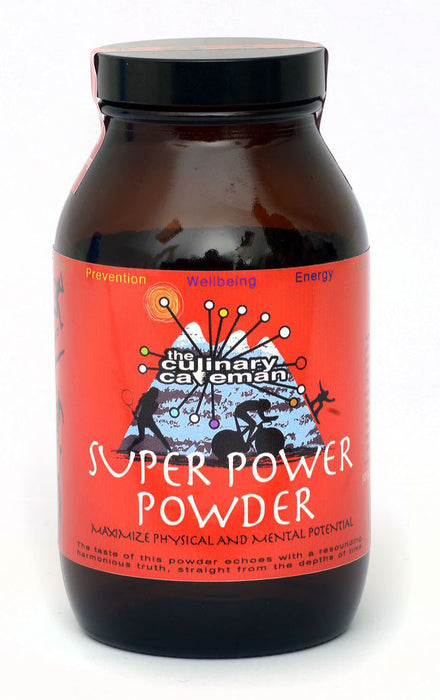 Super Power Powder by The Culinary Caveman
SuperPowerPowder is packed full of the very best suppliers of essential nutrients. From seeds to peas, nuts, roots, fruits and algae, all supplied in a perfectly balanced and utilisable powdered mix, with the goal of maximizing physical and mental potential. Its simplest description would be as a pre-exercise powder, although its ingredients are aimed at the whole body.
A powder formulated to help provide superior energy, muscular utilisation, oxygenation of the blood, increased stamina and improved cognition.
The unique formulation is also aimed at maximizing protein and calcium absorption, aiding bone and tissue, muscle and tendon growth and repair, as well as providing a full range of nutrition, nourishing your entire organism.
An outstanding and readily bio-available source of Protein; the Vitamins A, B1, B2, B3, B5, B6, B9, C and E; the minerals Calcium, Phosphorus, Magnesium,
Iron, Iodine and Zinc as well as a myriad of phyto-nutrients.
Ingredients:
Hemp Seeds*, Pea Protein*, Sunflower Seeds*, Hemp Protein*, Linseeds*, Almond*, Maca*, Sesame Seeds*, Pumpkin Seeds*, Ginseng*, Suma, Raspberry,
Blackcurrant, Orange Peel*, Liquorice*, Strawberry, Spirulina*, Astragalus, Kelp*, Dandelion Root*, Comfrey Root*, Horsetail*, Pau d'Arco*, Oatstraw* and Vitamin C extract from Acerola Cherry*.
(All ingredients are free from dangerous agricultural chemicals, most are organic*)
Sprinkle two teaspoons on your muesli or porridge, or add to a smoothie or just a bit of milk half an hour before exercise. A truly refreshing, unique and timeless brew. Feel the Difference.
Guerilla nutrition to help unleash your inner caveperson.