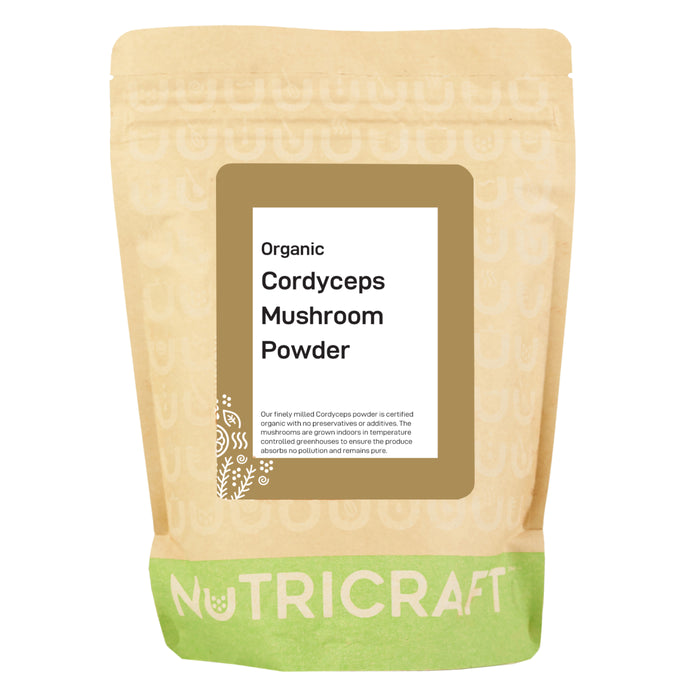 Organic Cordyceps Militaris Mushroom Powder
WHY IT'S GREAT QUALITY
Our finely milled Cordyceps Militaris mushroom powder is certified organic with absolutely no preservatives or additives. The mushrooms are grown indoors in temperature-controlled greenhouses to ensure the absorb no pollution and remain pure.
100% pure Cordyceps mushroom powder. Nothing added, nothing taken away. No additives or preservatives. No nasties.
The powder contains only botanic ingredients, including high levels of polysaccharides, which help to remove toxins from the body, and powerful antioxidants traditionally believed to help the immune system function and improve overall health. 
We also stock Cordyceps sinensis if you're looking for the mycelium/fungus version (as opposed to the mushroom version, which you're looking at here).
WHAT IT'S FOR 
Cordyceps have been used in Chinese traditional medicine for years. From reducing inflammation to improving heart health, there are many properties and benefits that have been researched both anecdotally and scientifically, we encourage you to read up on this curious fungus.

Contraindications: None.
Suitable for vegetarians and vegans, raw and kosher diets and those on gluten and yeast free diets. 
WHERE IT'S FROM 
We source our mushrooms and fungus from China where its taste and benefits have been enjoyed for thousands of years, so much so that they were worth their weight in silver in medieval times. Considered a delicacy and a nutritional powerhouse, China has many research centres dedicated to the development of mushrooms for both food and medicine.
Mushroom and fungus powders sourced from China is better quality than most other places in the world, as other countries mix the mushrooms with myceliated grain (laboratory grown mushroom seeds).
Environmental impact 
We only work with suppliers who pay their farmers fair prices and have good working conditions.
Nutritional Information 
Nutritional Information (per 100g)
PACKAGING AND SIZES
We use resealable packaging to make sure our products are fresh and tamper proof. The pouches stand up on your shelf, nice and proud.
Packs range from 100g to 5kg.
The 5kg option comes as a single non-branded pack of cordyceps mushroom powder. It does not come in individual 1kg packets.
Want more than the largest amount listed? No problem! Contact us for wholesale options. 
SHIPPING
We ship to all EU countries. For more information on shipping to non UK addresses please refer to our Shipping page.
DISCLAIMER 
As with all food and supplements, it is essential that you do your own research to decide if this product is right for you. It should be used as part of a healthy, balanced diet and should not be a substitute for regular exercise. While we believe that these products can be beneficial in many ways, they should not be taken instead of conventional medicine. Consult your doctor first if you suffer from any health problems or are pregnant or breastfeeding.