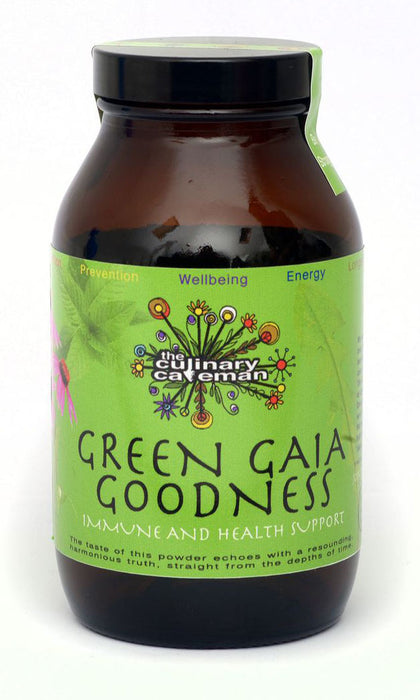 Green Gaia Goodness by The Culinary Caveman
The ingredients of GreenGaiaGoodness have all been carefully selected, sourced, formulated and balanced to retain the essential nutrients, all the vitamins and minerals, to enhance biological utilisation and maximise the potential benefits. The most nutritious plants from around the world are represented by leaves, roots, vegetables, grasses, fruit and algae, all found in powdered form, dried at a very low temperature to maintain their raw status.
Unlocking the true power of Gaia.
An outstanding and readily bio-available source of Protein, Vitamins A, B1, B2, B3, B5, B9, C and E, Iron, Manganese, Iodine, Magnesium, Calcium, as well as a myriad of phytonutrients.
Modern scientific research and traditional folklore has repeatedly shown all these nutrients to be beneficial for the optimum functioning of the immune and hormone systems, as well as general health and prevention. A unique formulation providing energy, a full range of nutrition for a healthy immune system, as well as helping with permanent weight loss and control, recuperation from illness, calms stress, soothes chest, balances hormones, contributes to bone, tissue and cell growth, feeling 'under-the-weather' and far too much to squeeze on here. Nourishing your entire organism.
Ingredients:
Pea Protein*, Broccoli, Spinach, Nettle Leaf*, Peppermint*, Parsley*, Raspberry Leaf, Chickweed, Maca*, Hemp Leaf*, Nettle Root*, Dandelion Leaf* and Root*, Comfrey Leaf* and Root*, Spirulina*, Echinacea, Astragalus, Wheatgrass*, Kelp* and Vitamin C extract from Acerola Cherry*.
(All ingredients are free from dangerous agricultural chemicals, most are organic*)
In a 260g jar there is as much iron as in over 2.6kg of bison steak and as much manganese as 3kg of pineapples (bison and pineapple are two of the best sources for these particular nutrients).
Mix a teaspoon or two with a small amount of water or juice (our favourite is fresh apple or pear juice) into a paste, add more water or juice to taste, about a third to half a glass and enjoy a really refreshing, unique and timeless brew. Alternatively, a teaspoon or two is also a fantastic way to turn a healthy smoothie into a superlatively healthy supersmoothie.
A great way to start the day and as a pick-me-up in the afternoon. A simple solution to the eating of more greens, without any fuss. Guerilla nutrition to help unleash your inner caveperson.
The taste of this powder echoes with a resounding, harmonious truth, straight from the depths of time.