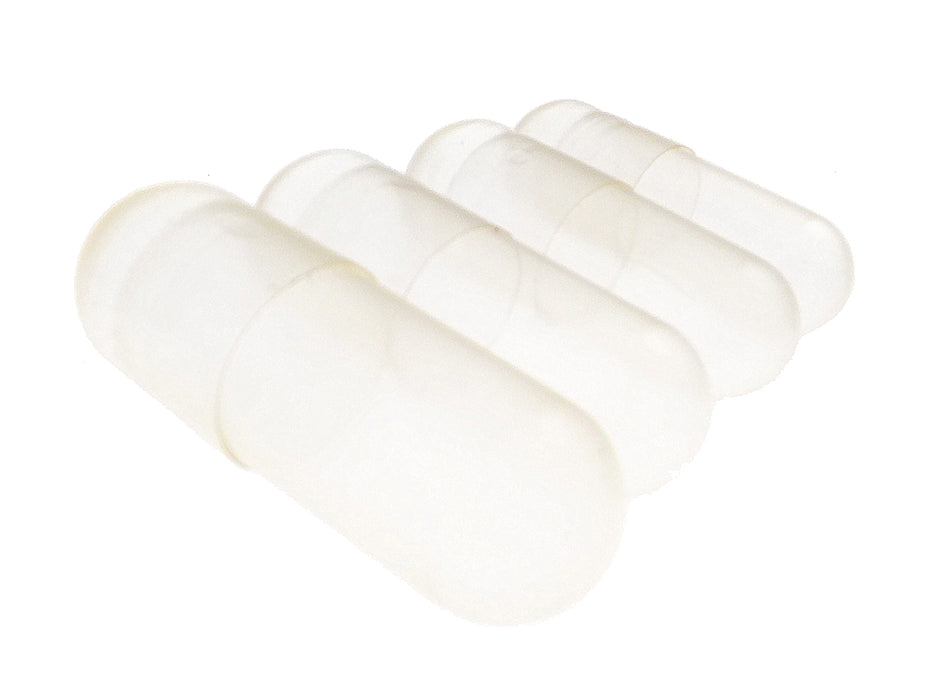 Cellulose Capsules size 00
Why it's great quality
Made to pharmaceutical standards, our cellulose capsules are the highest quality on the market.
Our cellulose capsules have a hard shell that's easy to fill and close and they're easy to swallow, being odourless and tasteless.
Cellulose is a plant-based material and suitable for vegetarian, vegans and people with religious restrictions.
These capsules get to work in 15 minutes or less, making it easy to get fast results on the go.
WHAT IT'S FOR
Fill these empty capsules with your own special mix of vitamins and supplements. You'll save a small fortune on high street prices and you'll get to tailor the dose to your own needs. And if you get great results you can go into production for your friends, family … the world …
Contraindications: None.
WHERE IT'S FROM
Our cellulose capsules are made in China. Cellulose is the main fibre found in plant cell walls and helps to keep the plant stiff and strong. Once extracted, it is mixed with water to form a gel-like substance that is shaped into the capsules.
Environmental impact
Cellulose capsules are much more sustainable than gelatin capsules. Gelatin is an animal by-product made from collagen, a protein that comes from animal tissues, organs and bones.
PACKAGING AND SIZES
We have listed a range of mg per size because all powders have different densities. The volume of the capsule is fixed so the weight of ingredient inside will depend on the density of that ingredient. For example, MSM is really dense like salt, wheatgrass is really fluffy.
Still not sure? Buy the 100 capsule pack – so you can try them out without over-committing.

100, 250, 500 and 1000 capsule packs come sealed in a resealable foil pack.
2500 and 5000 capsule packs come in large plastic grip seal bags.
Want more than the largest amount listed? No problem! Contact us for wholesale options.
SHIPPING
We ship to all EU countries. For more information on shipping to non UK addresses please refer to our Shipping page.
DISCLAIMER
As with all food and supplements, it is essential that you do your own research to decide if this product is right for you. It should be used as part of a healthy, balanced diet and should not be a substitute for regular exercise. While we believe that these products can be beneficial in many ways, they should not be taken instead of conventional medicine. Consult your doctor first if you suffer from any health problems or are pregnant or breastfeeding.