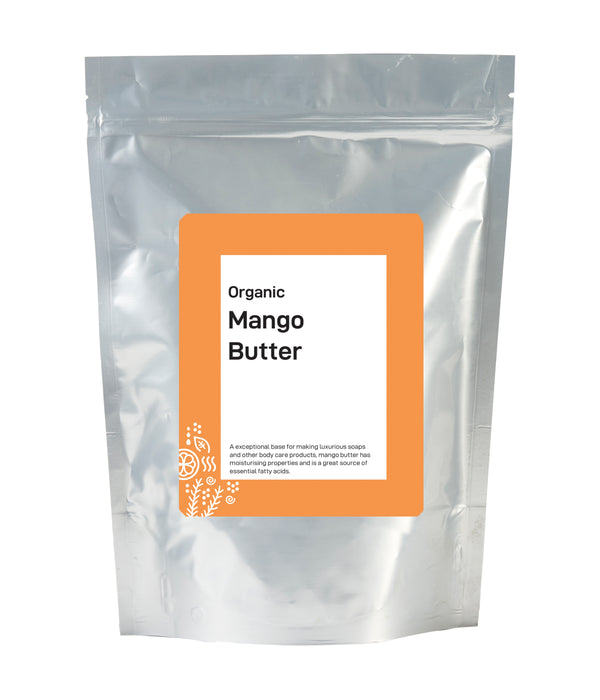 Organic Mango Butter (cold pressed)
Why it's great quality
Our cold pressed organic mango butter is the best on the market and makes an amazing ingredient for your skincare creations. Similar in texture to cacao butter, it's made from the seed kernel of the mango fruit which is packed full of glycerides of oleic and stearic acids. Its mild scent means it won't take over other ingredients' aromas in your products.
Mango butter is generally thought to be non-comedogenic, i.e. it has no compounds known to irritate skin, even sensitive skin. It also contains salicylic acid and antioxidants, which are known to protect from sun damage. 

WHAT IT'S FOR 
A exceptional base for making luxurious soaps and other body care products, mango butter has moisturising properties and is a great source of essential fatty acids. It's a fantastic base for skincare products due to its properties and composition.
Contraindications: None.
WHERE IT'S FROM
Our mango butter is made by cold pressing the stones of organic certified Indian mangos.

Our suppliers work closely with the farmers to ensure good working conditions and fair pay for the farmers at every stage of production.
Environmental impact 

Mango butter has a low environmental impact as the stones are a waste product resulting from processing mangos for making other products such as mango juice. Rather than discard the stones they're cold pressed in to mango butter! Waste not, want not.
PACKAGING AND SIZES
Our organic mango butter comes supplied in 250g, 500g and 1kg sealed packs which are resealable.  We also offer 20kg drums for wholesale customers.
Want more than the largest amount listed? No problem! Contact us for wholesale options. 
SHIPPING
We ship to all EU countries. For more information on shipping to non UK addresses please refer to our Shipping page.
DISCLAIMER
As with all food and supplements, it is essential that you do your own research to decide if this product is right for you. It should be used as part of a healthy, balanced diet and should not be a substitute for regular exercise. While we believe that these products can be beneficial in many ways, they should not be taken instead of conventional medicine. Consult your doctor first if you suffer from any health problems or are pregnant or breastfeeding.