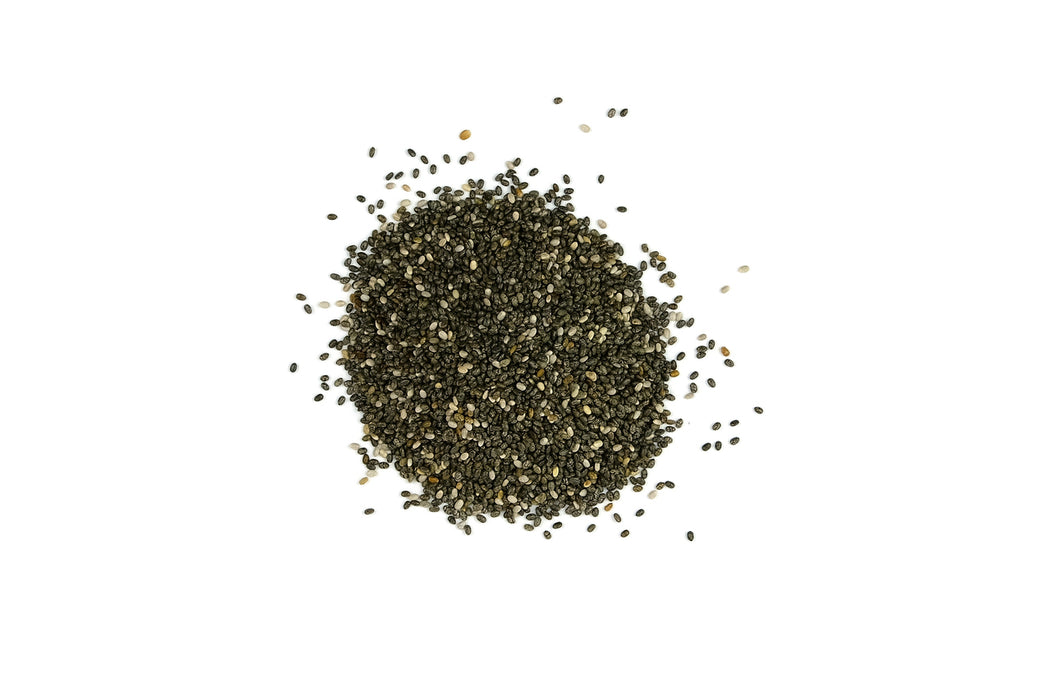 Why it's great quality
Our chia farmers are organic certified, to ensure you only get the best quality, raw chia seeds.
Loaded with nutrients that are said to benefit both the mind and the body, chia seeds are thought to be among the healthiest foods on the planet. Rich in fibre, protein, omega-3, B vitamins and antioxidants, adding chia to food is an easy way to boost its nutritional content.
Nothing added, nothing taken away, just raw. No additives or preservatives. No nasties.
'Chia' is the ancient Mayan word for 'strength' and it's not hard to see the connection - organic chia seeds are prized for their ability to provide slow release energy and keep you feeling fuller for longer.
WHAT IT'S FOR
With their neutral taste, chia seeds are one of the most versatile superfoods. They can be eaten raw or baked, work in both sweet and savoury dishes and can be eaten with any meal of the day – with a morning yoghurt and granola, a lunchtime avocado salad, or with falafel and couscous in the evening.
No doubt about it, a chia pudding (or two) is our favourite way to work these tiny black seeds into our diet. Whether you're crafting a small batch of strawberry chia jams or dressing up your smoothie bowls for your café, our organic chia seeds pack a nutritional punch.
Contraindications: None.
Suitable for vegetarians and vegans, and those on raw and kosher diets.
WHERE IT'S FROM
Our chia seeds come from the Salvia Hispanica plant, which is part of the mint family and is native to southern Mexico and Guatemala. The chia plant is now cultivated throughout Latin America due to its increase in popularity.
The origin of our chia seeds does vary depending on where we can get the best quality and price. For the most accurate information on our current batch please drop us a line.
Environmental impact
As a low upkeep plant, the chia plant does not need any fertiliser or much tending, making it a relatively easy income for the farmers. Chia is a hardy plant that can grow under many different conditions. The essential oils in the chia leaves make them naturally insect repellent!
As demand for more traditional plants such as the tobacco plant has fallen, growing chia plants has given these farmers a new focus and a reliable source of income.
Our suppliers always work with chia farmers who are organic certified, and they ensure everyone in the process, from cultivating the plants to harvesting the seeds, have good working conditions and fair pay.
Nutritional Information 
Nutritional Information (per 100g)
PACKAGING AND SIZES
We use resealable packaging to make sure our products are fresh and tamper proof. The pouches stand up on your shelf, nice and proud.
Packs range from 100g to 25kg.
The 25kg sack option is a single sack of chia seeds. It does not come in individual 1kg packets.
Want more than the largest amount listed? No problem! Contact us for wholesale options.
SHIPPING
We ship to all EU countries. For more information on shipping to non UK addresses please refer to our Shipping page.
DISCLAIMER
As with all food and supplements, it is essential that you do your own research to decide if this product is right for you. It should be used as part of a healthy, balanced diet and should not be a substitute for regular exercise. While we believe that these products can be beneficial in many ways, they should not be taken instead of conventional medicine. Consult your doctor first if you suffer from any health problems or are pregnant or breastfeeding.