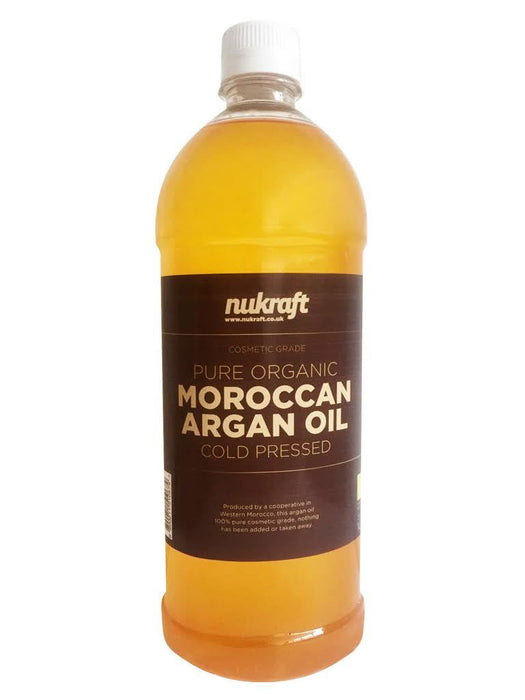 Why it's great quality
You can measure the quality of our organic argan oil by its scent; a carefully preserved nutty aroma. This is down to the unrefined process we use, and the fact that it's a cold pressed oil, which doesn't need any preservatives, keeping it chemical free.
All our argan oil is 100% raw, cold pressed argan oil. Nothing added, nothing taken away. No additives or preservatives. No nasties.

Our argan oil is rich in essential fatty acids, which help fight the signs of skin damage and premature ageing. It can stimulate the renewal of skin cells, boost elasticity of the skin and protect the skin from environmental pollutants.
WHAT IT'S FOR
Argan oil is popular in skincare products because it neutralises free radicals – which improves skin tone and minimises fine lines. It melts into the skin without feeling greasy or heavy, leaves skin soothed and glowing. Suitable for all skin types and ages, whether your customer is your mum, or your toddler.

Organic argan oil also helps to relieve the symptoms of eczema and psoriasis.

Whether you're creating a new miracle cream or using it neat, you can use it directly on the skin or mix it with other creams.

It's also the perfect ingredient for hair conditioners and treatment oils. Argan oil provides rich nourishment, giving hair a beautiful shine.

Contraindications: None.
WHERE IT'S FROM
Our organic argan oil comes from the home of argan oil – Morocco. It's hand harvested by farmers and sometimes, goats. Yes, you read that right. Goats like to climb argan trees, eat the fleshy part of the fruit, and spit out the nut, where the oil comes from. It's cleaner and safer than it sounds, as the nut is cased in a bullet proof shell, and the uncracked argan nuts are thoroughly cleaned before going any further.

When it's not harvested by goats, much of Morocco's argan nuts are harvested by women's co-operatives, giving more women fair pay and opportunities in a previously male dominated industry. We always work with suppliers who care about their farmers and look after the communities who make a living from the argan trees. The production of argan oil currently supports over 2 million Moroccans.
Environmental impact
The argan tree plays a vital role in preventing soil erosion and maintaining water resources, acting as a natural barrier against the advance of desert land. The tree is so good for the environment that Morocco's argan forest was declared a Biosphere Research by UNESCO in 1998.
PACKAGING AND SIZES
We use resealable packaging to make sure our products are fresh and tamper proof. The pouches stand up on your shelf, nice and proud.

Packs range from 1 litre to 10 litres.

Want more than the largest amount listed? No problem! Click here to contact us for wholesale options.
SHIPPING
We ship to all EU countries. For more information on shipping to non UK addresses please refer to our Shipping page.
DISCLAIMER
As with all food and supplements, it is essential that you do your own research to decide if this product is right for you. It should be used as part of a healthy, balanced diet and should not be a substitute for regular exercise. While we believe that these products can be beneficial in many ways, they should not be taken instead of conventional medicine. Consult your doctor first if you suffer from any health problems or are pregnant or breastfeeding.