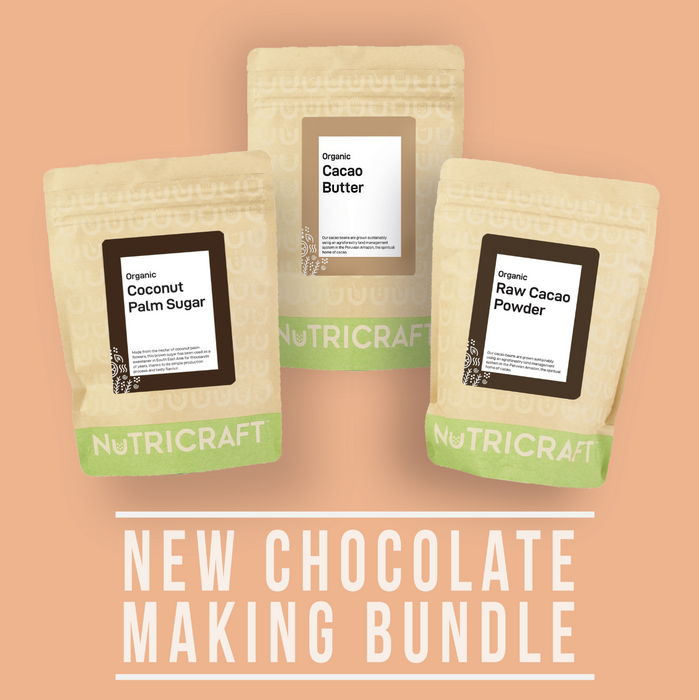 These three ingredients are the basic building blocks you need to make your own amazing organic chocolate. We have sourced the highest quality for each and make sure we offer them at the fairest price and with quick delivery you can start in the next few days. 
Cacao Powder :  We use the King of Cacao - organic raw Criollo cacao beans - in our cacao powder, guaranteeing at least 75% content of this is rare, very high-quality aromatic bean. It's considered a delicacy and prized for its superior flavour – the result of the bean's higher fat content. 
Cacao Butter : Quick melting and great tasting, cacao butter is a must-have for bakers and chocolate makers alike.
Coconut Palm Sugar : Subtly sweet with a slight caramel edge, coconut sugar can be used as a direct replacement for normal sugar. It has a very low melting point and a high burn point, making it a suitable sweetener for makers of organic chocolate.
Small Bundle - £10 SAVE 5% 
250g of each - enough to make your own personal supply of chocolate. 
Medium Bundle - £15.50 SAVE 8% 
500g of each - enough to experiment with and try multiple flavours and fillings 
Large Bundle - £25.15 SAVE 13%
1kg of each - Enough to hand out to your friends and family, this could be the start of your choco-business you chocopreneur 
caco, cacoa